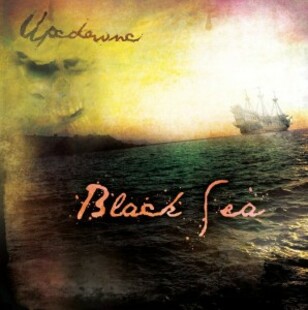 Upcdownc have the weight of years behind them. Witnessing their set at this year's ArcTanGent festival was one of my highlights so to hear their latest album reflects their live intensity is a nice reminder.
I'm not in a nice sun-hazed field near Bristol now though, rather peering through the darkness of a December evening. I can barely remember what the sun looks like.
Black Sea is an excellent introduction to what has been in the past, as far as I can tell, an instrumental band. With the addition of some pretty fervent screamed vocals it's given them a more urgent and immediate feel.
Witness Titan for example, which throws itself immediately down the stairs, before entering a quiet, reflective passage and then evokes the post-metal majesty of Pelican et al. What you clearly realise very quickly is that Upcdownc are still a schizophrenic, twisting and turning beast of a band. Multi-layered and with a clear heads-down adherence to dynamics too, they even throw in glitch-ridden electronics to get their messy point across. But here's the rub, it's all very accurate too. In the same way that everyone wonders what powers the likes of Bez from the Happy Mondays or Shane McGowan from The Pogues, it just works despite being clearly screwloose.
Atmospheric sections that give away to the always-there chaos seem to be a recurring theme but you'll never hear the same part twice. Upcdownc have also been able here to explore their self indulgence, the percussion and clean vocals on Red Meat clash perfectly with the Explosions In The Sky worship of End of Every Film.
Compounding their multi-genre assault is the Blanck Mass-like electronic sheen of Vast Machine which burbles away before a metallic intro signals Drive and it's confident stomp. This actually then becomes a motorik, Neu!-esque journey into space, there's some prog fans in this band for sure and if they ever hear the band Nisennenmondai they might just release a whole album of one, single flapping note and expect us all to lay down and give up.
The title track is like being hit by a large wave in slow motion. Simply massive.
This is followed by the slowburn of Z-more which sounds like robots breaking up icicles and then like someone trying to break through your door with a headless axe, planting the wood against wood until they collapse from sheer effort.
We're not even done mate, as the shorter, but no less beautiful La Dolce Vita plays its way delicately across the landscape like a bird at dawn, heralding the closing effort Hunter Gatherer.
This is the jewel in Black Sea's crown, combining the achingly warm clean vocals with sections of sheer post rock cerebral battering to create a rich tapestry.
This is nearly an hour of the band's finest work to date, worth sectioning off a portion of time to fully absorb, this will probably make our top albums of the year lists.