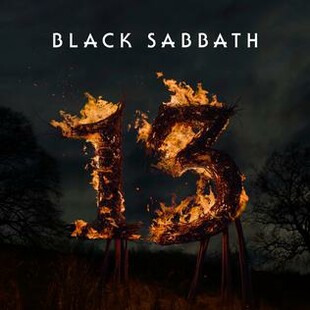 In some ways this is a Black Sabbath album, and in other ways not. The absence of Bill Ward means that the 'fifth member', the unique vibe of the original four which no other Sabs line-up has really had, is not there.
This record might contain three-quarters of the original line-up, but it still doesn't have the same 'feel' as those 70s records did. It feels like a new band more than an old one.
On the other hand, no other band has ever quite matched the sheer feel of the Iommi/Butler 'wall of sound' – the total core energy punch those two musicians make together, which is the very heart of Sabbath time and again no matter who the other musicians might be.
Any album featuring these two members in my mind automatically qualifies as being some form of Black Sabbath because of the core energy they produce.
And 13 has it in spades, as opener End Of The Beginning shows. Like Bon Scott or Jimi Hendrix, the Iommi/Butler engine room energy just can't be duplicated. A fairly uncompromising opener, it still pales next to what is probably the best song on the album, God Is Dead which reminds me of the recent Heaven and Hell output. While Ozzy fits in to the song pretty well, I suspect that the tune was originally written for Dio – imagining him singing it instead is very easy. Either way it's a monstrous song. But I do wonder just how much of this record's raw material is sourced from that Dio reunion, because God Is Dead is not the only moment on the album where I'm expecting to hear his vocals instead of Ozzy's.
Some songs sound more recent in their origin. Zeitgeist is a reasonable attempt to write Planet Caravan part 2, and it's a nice moment of contemplation in between the heavy stuff, though a little obvious. Damaged Soul has a very bluesy/swampy vibe to it, and manages to sound laidback and heavy at the same time.
There are no songs on this album which could really be called 'filler'. Live Forever has forgettable verses but also a great chorus. 'Loner' is unambitious, but chugs along quite nicely. However Dear Father, while lyrically very direct and accusatory, doesn't quite hit the mark for an album closer.
Age of Reason is perhaps the most underrated gem on here – the first half of the song is reasonable, but towards the end it shifts gears and goes into a coda that is quite frankly brilliant – it's one of those bits of magic that truly great artists distill, and words can't describe how it feels to listen to it. Great leadwork and riffing.
Iommi and Butler are great as usual, and Brad Wilk does a decent job behind the kit. Ozzy is surprisingly good – he sings in a lower register and is pretty on the mark. Maybe it's been tampered with a bit, but I'm not bothered.
I'm pleasantly surprised by this album – all tracks have something of worth to them, and some are brilliant. If this is the last time, it's a decent final salvo.