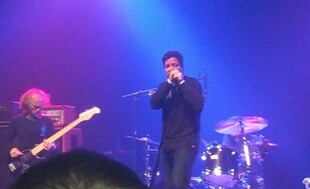 The whole legal battle between the fractured factions of the ashes of Kyuss has been unedifying to witness for any fans of the band and those who hold their music in almost mystical majestic regard. For the better part of the last two decades I've counted myself in that group, and while I can see both sides of the argument, the overriding feeling is one of sadness. It reached a head for me when I read Chris Goss taking sides through social media; message to all - it's gone too far! Most of us aren't siding with one or the other, it's just making us depressed. It was undoubtably starting to take the sheen off the memory of Kyuss.
The resulting name change of Garcia et al from Kyuss Lives! to Vista Chino, necessitated from within a courtroom, is probably for the best for all parties. The inclination it has brought to make new music has to be a positive, and the title of their debut album, Peace, hopefully points to an end to the crap, and the blossoming of new beginnings. Because when this tour was booked, months ago, I was still eager to get tickets as the musicians involved, John Garcia and Brant Bjork, are still peerless in their field, and the music they will play is still timeless, even tarred as it has been recently.
The fact that it was being held in The Ritz was a bonus. A frequent haunt of mine in my student days, every Monday night for about three years from '98, dancing to Beastie Boys, Prodigy, Sepultura, The Smiths (it is Manchester) and yes, Kyuss, drinking the cheap crappy booze and generally finding places to pass out in, this was a nice chance to reminisce. We all met in the nearby rock pub The Salisbury, to further the memory lane trip, hoping not to get too drunk to complete the whole experience by going to Locos for a dodgy kebab and walking back to our Salford digs once it ended.
Once we walk into the Ritz it's clear that, as reviews of this tour elsewhere have been hinting from various countries, the gig is not sold out. It has been said that the name change is to blame, lacking the vital connection to glories past it has passed many by. While that excuse is with some merit, I'd be more inclined to believe that having toured as Kyuss Lives! already, many have experienced their chance to bask in the glow of days past, and despite the release of Peace, don't feel the need to do it again (I went to a Biohazard reunion gig about 5 years ago purely to pretend I was 16 and mosh to Urban Discipline again - now they're touring more readily I wouldn't dream of going to see them again).
Monster Truck open, an unknown quantity for many here, and are alright - a good slice of Skynyrd twanged heavy rock from Canada. I'm still taking in the Ritz, and sulking at not being allowed on to the balcony for old times sake, to pay much attention, but they get a healthy roar of approval. When Vista Chino appear, we head forth closer to the stage, remembering in an instant the bouncy dancefloor and it's propensity to spill drinks from the steadiest of hands. Predictably, there's a vast difference in the greetings to the Kyuss back catalogue and the new Vista Chino material. The sound, muddy and low on guitar early on (it is corrected half way through) doesn't help - everyone knows the Kyuss songs so it matters less then, but the better moments from Peace lose their subtelty and quality. Sweet Remain, the best of the new stuff, suffers and hides Bruno Favery's greatest moment to shine.
There's a slightly deflated feel, even to the likes of Hurricane and One Inch Man, between the dissapointing crowd, initially bad sound and, for me at least, the sense that I've been here before but in better circumstances - at Roadburn 2010, then called Garcia Plays Kyuss, the first time this happened (I think, please correct me if not), seemingly a special one off playing to a heavingly full main room of the 013, the whole crowd drowning out the band as we sang from our hearts and danced as one. Tonight has no chance in comparison to that. Yet, when they play the likes of Gardenia, Freedom Run and Whitewater you feel the hairs on the back of your neck involuntarily stand up and you lose yourself in some of the finest music ever created, being played by some of those who did. It is still thrilling.
The lack of capacity crowd inevitably puts a dampener on the night for bands and fans alike. There's nothing wrong with playing smaller venues, when they tour again (smaller the better in my book) but there's every chance they can win back those who flocked to see Kyuss Lives! The talent is there - even post Kyuss, Garcia has shown this in numerous bands, and Brant Bjork on his superb solo records - they just need to earn it with good, new material. There's no reason to think it won't happen; rather than a disappointment it is, as said before, a chance at a new beginning.