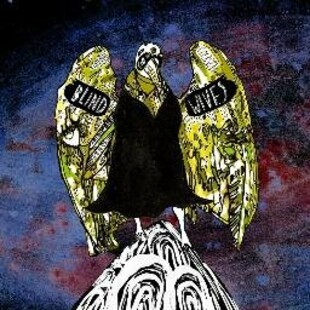 Blind Wives are a dirty proposition from Lincoln, their debut album was impressive anyway but this new three track single has a more cutting tone.
Title track Spall has a Foo Fighters everlong feel in parts, but that's by no means an indicator of what happens elsewhere here. There's little flourishes of bass that hint at a technical side trying to break through and the vocals sound increasingly emotional throughout. This means the music stands somewhere between alt rock and grunge and dare I say it a 90s screamo influence. It's there, someone just needs to play them some Kodan Armada or something.
Black Out kind of steps on that previous description and squashes it. There's a pop punk lilt here, a bit upbeat and Promise Ring-ish but not as bubblegum as that suggests. Also, American accents creep into the vocals slightly, not sure if that's a good thing.
Third and final track Life Beater has an addictive and pulsating feel to it. Some great backing vocals too and that QOTSA influence that was on their debut is there again, a good thing. There's a bland acoustic section towards the end of the track, but it soon comes back round to a stonerific riff fest again so all can be forgiven.
Keep an eye on these, there's some incredible ideas being shown and if they stick to the heavier sections they'll be interesting to watch live soon too.