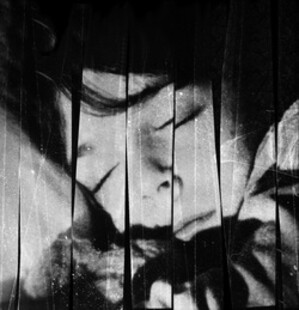 Gizeh Records have graced these pages enough times for regular readers to know that we hold them in high regard. For the uninitiated, imagine a label obsessed with the ethereal and distant and with a keen ear for those innovating in the field of ambient climes, pastoral soundscapes and a sense of wonder.
Past releases have included the fantastic Fieldhead, Aidan Baker and Mere. Frederic D. Oberland who appears here is involved with a majority of releases but this collaboration is more immediate and close up than you'd be used to if you've listened to other releases previously.
The Freemartin Calf is a 40-minute experimental fiction film shot on black and white Super 8, directed by Jayne Amara Ross and this recording is a studio version of a live piece intended to be played in tandem with the film.
As a result of Jayne's poetry, you are taken on a journey of sorts, with stark imagery and a hushed reverence taking over from the first track. Strings play and electronic swishes and swirls curl out the speakers while her delicate voice is high in the mix and comes across as very effecting. A lazy comparison would be the spoken elements of Swans, where Jarboe's less exuberant moments charm the listener. However, she probably has more in common with the sleek and cut-glass tones of Sarah Nixey of Black Box Recorder fame. The sections where she speaks are hushed and reverent sound-wise, the bubble of a synth or a hint of percussion stretched out is all you have for atmosphere, but it works nevertheless.
Lyrically, it shared much with the film noir cool of Enablers, the poetry given slow, deliberate pronunciations to create maximum effect. Images focus heavily on bodies and the effects of fear, trust and dread upon it, so it's not by any means a light, carefree listen.
If you can divorce the film from the sounds, then you have a haunting, evocative piece of art here. If you cannot make that leap, then perhaps this will be seen by many as a failed experiment. Persist though, and what you have is a personal, stark narrative that bears repeated listens. Fascinating and mysterious are your key words here, why not follow them into the ether for a while?