Mender have moved from a purely studio proposition into a live act that will no doubt prove a fantastic headline performance for MADE. We catch up with Ashley, also drummer in Alright The Captain, to see what Mender have been up to in their short gestation and what the future holds.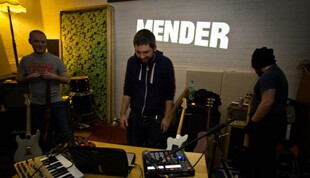 Mike: When did Mender form? Was it originally going to be a live act?
Ashley: Well, I have been releasing stuff under the name Mender since August 2010 as a sort of side-project while I was drumming in Alright The Captain. At first it was just a bedroom electronica thing and a means of developing my skills in music production but 5 EP's and two full-length albums later I had began to take it pretty seriously. It probably took about 2 years of writing and releasing stuff on my own before I began to think about how to take Mender on the road and after I parted ways with ATC I was excited about getting my teeth into something new.
In November 2012 I began working on some of the existing material with Ed Mayle on guitar and Dave Seaton on bass, trying to breathe new life into them and reinterpret them as live songs. This process has lead to Mender becoming more of a band than a solo project and we have written a whole bunch of songs together with live performance in mind.
Mike: How would you describe your music to those who haven't encountered it yet?
Ashley: The new Mender sound is pretty dense and melodic with lots of hooks and swirly ambience. We are an electronic band in the sense that a lot of what you hear is coming from the laptop but the songs are driven by live guitar, bass and vocals so there's a fine balance between conventional song writing and contemporary experimental electronica.
I'm not guna sit here and rattle off a bunch of bands and artists because that's just a bit lame but if your tastes fall somewhere between Radiohead and Four Tet, I think you'll dig what we do.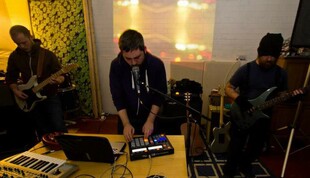 Mike: What are your plans for the future?
Ashley: We are currently working on an album for release on Mountains of Records that will feature brand new material written by us as a 3-piece. We hope to have this out in early 2014. In the mean time, we just shot live sessions for a couple of new tracks so people can hear what we sound like and we hope to get a single out this side of Christmas to promote the album. Aside from that, it's just a case of taking the live show to as many cities as we can and show people what we are up to!
Mike: What can people expect at MADE?
Ashley: People can expect MADE to be the first time we perform the album in it's entirety. It will be pretty fresh and potentially a bit ropey from our perspective but anybody planning to see us at MADE will be be able to say that they heard it first!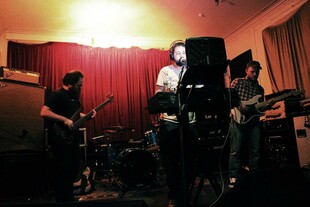 Mike: Are you aware of any of the other bands on the bill?
Ashley: We've been keeping track of the preview articles on Ninehertz.co.uk and it seems like it's guna be quite an eclectic mix of stuff. We've not heard of any of the bands announced so far but then we haven't seen a full line up yet so it's hard to say. I'm liking the slow drip feed of info regarding the bill. Keep it interesting.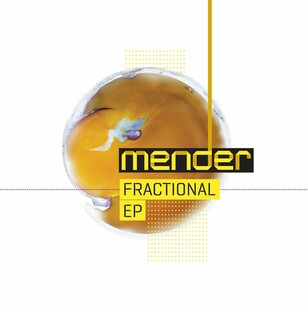 Mike: What's your favourite venue to play in the UK and why?
Ashley: MADE will be Mender's 10th live show since December 2012 and half of those have been in our home town of Nottingham so I can't speak for us, but having played in ATC for 5 years and seen and played many gigs up and down the UK, I would say Bar Bloc in Glasgow to play cos it's one of those low-ceiling affairs with a reputation for good music so the crowd is fairly reliable. Also I like The Brudenell Social Club in Leeds because of the room layout, you can see everything from where ever you stand, although I've never played there myself.
Mike: How does playing live electronic music differ from physical instrumentation set ups?
Ashley: I guess the main difference is that there is more to go wrong. Our first gig very nearly didn't happen thanks to my audio interface dying during soundcheck, which is not an easy thing to replace at short notice! When I was a drummer, there was always somebody with a spare clutch or another drum stick but electronic set ups are obviously a little more specialised. Having said that, our change over time is ridiculously short. We can fit our entire back line in my Toyota Auris and we can carry it on and off stage between the three of us without breaking a sweat so I guess that balances it out. In terms of performance, electronic music can be some what unforgiving when you mess up. A live drummer will wait for you and readjust but programmed beats require a different skill set.
Mike: Are the crowds reacting in a different way to your music than they would for Alright The Captain?
Ashley: Definitely yeah. ATC were an aural and visual assault in every way. Between the mathy motifs, the grinding dynamics and that strobe light we used to strap on to the kick drum, the whole set was a complete head-fuck where as Mender is the antithesis of that. We are focussing on song-craft and texture. The album we are working on is full of melodic hooks and soothing ambience. ATC was about abrasive, grinding filth. So far, the crowds at our shows have been driven into silent reverie as opposed to furious head nodding or beard stroking. I like to think that we could silence a few more rooms once we start touring this album!
Mike: Is playing electronic music more freeing when it comes to recording? I imagine it has less constraints?
Ashley: We have a system of writing and recording on the fly now that helps us to develop new ideas really fast. We couldn't manage this without the instantaneous nature of writing and recording electronically. The process of being able to write something then hear it back straight away, take it home, tweak it and then relearn it has helped us to put the spontaneous and organic element back into the electronic soul of Mender.