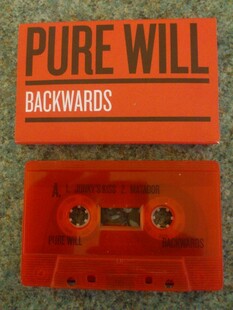 Described online as a two-bassist pincer movement, I'd say that's about accurate.
I love getting tapes through the post, this one came with zero information, simply a card sleeve with the song titles and a red, clunky cassette that contains some pleasingly brutalist compositions. All I can glean from the web is that they are a Birmingham outfit who have played Supersonic (I just have missed them).
There's stomach churning noise on offer in droves, but it's when they crack out the wheezing and asthmatic sax that things get interesting. Obviously fans of Zu, but with their own style thrown in, this is Swans-ish at times. That's Swans a while ago, rather than the more bellowing, rapey Swans of the recent past. The raw and distorted vocals clatter against the simple and clomping percussion and rusty-sounding skronking on offer to create a buzz.
Offering up four songs, side one crashes into a wall in a pile of struggling sax and feedback and side two fares only a little better, the twin attack of Bowed and Quick Me The Grease Of The Knife mean there's little room for comfort breaks, yep you're going to have to finish the journey while your bladder's still full.