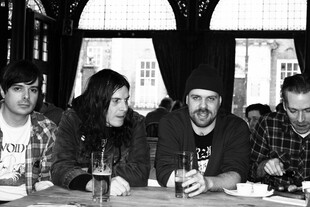 Like treacle from a corroded tin, Dethscalator are sickly sweet but probably bad for you. They've been slavering about our shores for about five years now so we thought it high time to bother them with some questions. Vocalist Dan Chandler was man enough to answer these diversions...
9hz: You've got pretty crazy vocals, where do they come from? Has anyone inparticular influenced them?
No one person in particular, I guess some English character actors from the 70s like Brian Blessed and Oliver Reed have got to get some credit. I also was super into Scratch Acid and the Thrown Ups when I started singing in bands. I dunno, I can't really 'sing' in a normal voice, what I do is as close as I can get to sounding interesting.
9hz: When did Dethscalator come about? Presume it wasn't the usual 'guitarist seeks band, floyd, who, no timewasters' right?
Yeah exactly that... I moved to London from Bristol in 2007 and was looking to start a new band, I put an ad up on collective zine 'Vocalist seeks a band. Influences ZZ Top & Sabbath'. Matt and Stu were starting something up at the same time and needed a singer so they got in touch and this is what happened. Unfortunately I should've put 'no timewasters' on the ad too... that was an error.
9hz: You organised a fantastic festival in 2008 called Hokaben, what happened to any follow up?
Yeah it was a pretty mind blowing lineup. I lost a lot of money though I nearly gave myself an aneurysm, it took a fuck lot of work to do on my own. No plans to do a follow up right now but you never know. If anyone wants to lose money in a really interesting way, get in touch to invest in Hokaben 2014.
9hz: You've done a split with Hey Colossus before, how did that come about and do you plan to release any more in the future?
Yeah it was a good record that. We were playing with those guys quite a bit at the time so seemed a sensible thing to do (especially for us cos at the time we only had enough material for half a side of a record). Colossus had the hook up with Andy at Riot Season, he was up for putting it out so we did it.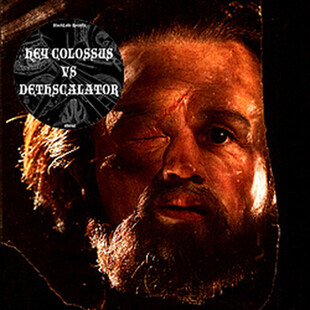 9hz: What's your favourite place to play in the UK? Why?
I guess here in London is where we've had our best gigs, mainly because more than 5 people have heard of us so there's a small chance some people will be at the show. Bristol is always fun too.. we had a good halloween show there a while back. Stu took too much acid and was frightened of his drums. That was pretty funny.
9hz: What's been your best show so far?
Playing with Pissed Jeans was good. Also, opening for Whitehouse on their last ever show was pretty cool (tho I think they've played since). Oh yeah and Supersonic too, though I literally cannot remember one thing about it. Apparently we were good according to a person who was there. It's weird though, when we have a 'good show' it tends to be the gigs with less 15 people watching.
9hz: Also, any horror stories to tell?
We played a tiny venue in durham on our last tour - we were opening for Monarch and Arabrot. The venue was right in the middle of a residential area with a history of getting noise complaints, so probably not the best three bands to book. By the time had played the council had already been called, then Arabrot went on and made the situation worse... by the time Monarch went on they had to play at the lowest volume their amps would go. I think they were pretty pissed - they'd come all the way from France. Ha.
9hz: What are your lyrics about? They sound sleazy to these ears...
Yeah they're about formative sexual experiences and collecting Nazi memorabilia.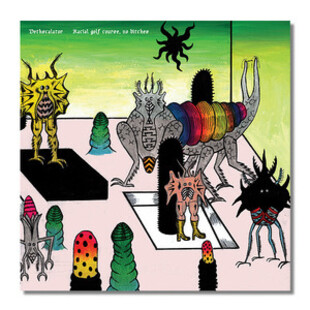 9hz: Are you planning on touring this year? If so, who with?
Yes once the record is out we're gonna be doing some shows. No fixed plans yet so watch this space. Hopefully going to the states too but that'll probably be next year.
9hz: Heckles, have you had any amazing ones?
We don't really stop for long between songs so I can't say I've actually heard any.
9hz: What bands should we be looking out for from your neck of the woods?
Well Bad Guys (also on Riot Season) and Gum Takes Tooth are bros from Hackney who we play with a lot - definitely worth checking out. Last show that I went to that I really enjoyed was Vatican Shadow, really digging him at the moment. John Heckle's record on Mathematics is pretty great too.