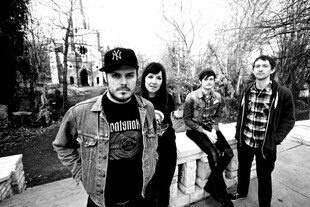 Limb seem to have entered our psyche as if from nowhere, sludgey and straight up, they define what is great about the genre. We caught up with Sam Cooper from the band to pry into what makes Limb tick.
9hz: When did you form Limb and what were your intentions?
Jodie (drums) and Sam (bass) practiced together briefly as a two piece before Pat (guitar) came in, but Limb started properly at the tail end of 2011 after Rob vocals) responded to an ad the others put out for a singer. Once we got in the room together it all fell into place pretty quickly; we never really laid out any specific intentions. We just wanted to be making the kind of music we like listening to, and which we can play while drunk and hurling ourselves round the stage.
9hz: Your influences appear to be the stoner rock and sludge elite, Eyehategod, Goatsnake etc, do you think there's still mileage in this genre?
Absolutely! And it's really proved itself over the years. Look at what a great tradition has emerged from Sabbath, Blue Cheer and Mountain, and moved through to Kyuss, Goatsnake, Electric Wizard and so on; now we have a whole new glut of bands emerging. There remains something very satisfying about the sound of a fuzzed-out guitar--they realised that even in the early days when players would slash their speaker cones to distort the sound. In fact, maybe that's what this genre is all about: amplifier worship, and destruction!
That all said, tradition is quite a complicated thing in relation to metal. On the one hand, metal really relies on genre and convention; but on the other hand, to be completely generic and conventional is boring. So what we appreciate, and try to do, is to combine recognisable elements with the unexpected and unique. The trick is to both pay homage to your predecessors, but also to be individual.
9hz: You've released vinyl, but what format do you prefer to receive your music via generally?
Vinyl is great for collectors' sakes, and for the packaged object, but people these days also appreciate digital for ease. Though it's frustrating that even though computers can hold more data than ever before, MP3s are still used over lossless files. When the technology first came about, we were quite happy putting 10 songs on our 128mb MP3 players. Now, though, the emphasis seems to be on how many songs a device can hold with little concern about preserving the quality of the recording. Though it might not always seem so, a lot of thought goes into the sound, tone and dynamics of heavy bands like ourselves, and it's a shame when that's lost.
9hz: Are your lyrics set on one particular theme or do they cover a wide range of subjects?
The lyrics are pretty varied but I suppose the overall moods tones are fairly bleak, as you'd expect!
9hz: Touring wise, where do you hope to reach? Any ambitions to go abroad?
Yeah, Germany would be good, and Eastern Europe, and of course any of those ridiculously good European festivals.
And we'd also like to play with Weedeater on a full tour of the States. We wouldn't even mind going on first…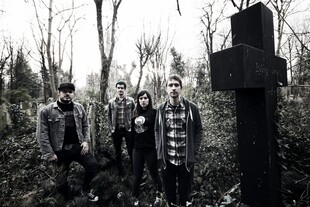 9hz: Who are you listening to at the moment? Any bands we should be looking out for?
We move in the same circles as loads of really great bands: Gurt, Throne, Black Moth, Dead Existence, Black Mass, Slabdragger, Vodun, Holy Mountain, Conan, Wolfshead, Moghul... the list goes on!
But we all listen to other things too. Sam swears by Slade. Pat's really into Seventies funk, especially bands who wear sequins. Rob is an avid collector of Sooty & Co spoken word books. While Jodie's big into Noothgrush at the moment, she mostly likes a bit of peace and quiet when she can get it.
9hz: What's your favourite UK venue? Why is it so special to you?
The Black Heart in Camden occupies a special place in our, ahem, black hearts. It's kind of where we started out 'properly', and we recently launched our 7" there. It has lots going on and there'll always be familiar faces at the bar. Santiagos in Leeds is always a good time, too.
Big Spaceship put on free nights there, and we've played for them twice now. Both times the crowd has been amazing, really responsive, and the post-gig boozing has been hard and messy.
But there are lots of other factors which will affect how we feel about a gig: most importantly, the promoter. We mostly play for excellent people who promote well, pay bands fairly and do it for the love, but we've been ripped off too. The best gigs definitely aren't simply the 'biggest' at the 'best' venues with riders and all that; the more intimate, more personal and less professionalised ones are usually much more fun.
9hz: What's the funniest, or worst thing to happen at a gig you guys have played?
We're slowly learning to restrict our pre-gig boozing, which will hopefully mean that in the future the funny things happening at our gigs won't be us forgetting to turn on amps or plug in pedals!
We're very willing to laugh at ourselves though. So when, for example, we're the only band on a bill who aren't death or thrash metal, and the room just clears as we start playing, we try to laugh it off, and play to the one stoned guy gently swaying in the corner.