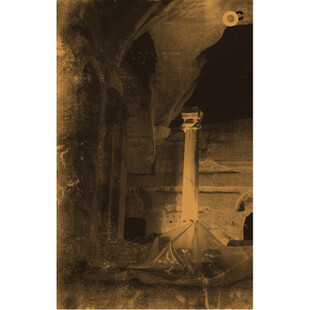 We're no strangers to Orthodox here at ninehertz, we've seen them transform from simplistic doom band, grinding out note after note in a caveman way, to the twisted, unusual group they are today.
This tape, one of two debut releases by new Spanish label Knockturne Records from Seville, features some of the most mystifying music Orthdox have set down thus far. Recorded live in November last year, it is stark and bleak from the off. Distant percussion rings out over mournful strings and a feint outline of a drone courtesy of some understated electronics, all vivid sonic explorations. A kind of disturbed call and response seems to be at work here, but truly there's deep experimentation at work here. This is the confused opening moments of a film where you haven't seen the protagonist's face yet, and you might never do. It all comes to the fore towards the end of the track, with everything racing into sharp focus in both volume and intensity as if from nowhere. If Sunn0))) forgot the amp worship for a moment, this is what could be achieved.
Con sangre de quien te ofenda has more in common with lengthy jazz compositions by the likes of The Necks than it does to overly strident doom. Repetitive basslines cross with subtle and nuance-filled percussion and reverb-soaked guitar notes evoking New Orleans' palatable side, rather than its sludge underbelly. There's even a jazz drum solo freakout for good measure, with the audience going wild in the background too. This is frankly, incredible and it's almost unreal this is the same band we've all seen tearing up the Supersonic festival in Birmingham with three chords only.
Templos is a descent even further into this mantra of mayhem, even more freeform than the previous tracks, it shows a band completely ensconced within their own world. Walls of shimmering notes are looped and relayed over fields of drones and shivers of cymbal tickling, all the while making you wonder where the attack is coming from. This is the music of experimental dance or theatre, masked dancers bending every which way and danger lurking offstage constantly. If they haven't soundtracked some experimental stage show just yet, it's only a matter of time.
Steer clear if you want riffs, there aren't any, but I might have to order this tape just to work out what the hell is going on under the surface. The next time these guys play live in the UK, they'd better be playing in a cave or something, because our dingy, drab venues with black painted walls and offers of 2-4-1 at the bar on Carling bottles won't do this justice at all.