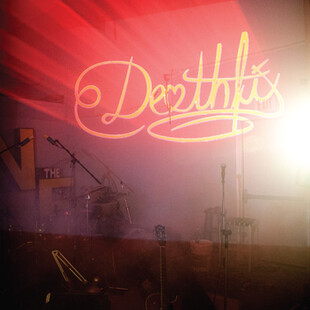 I love Dischord records, always will... there is no doubt in my mind that some of my all time favourite music was breast fed by that label, but I have no idea what type of stuff they release these days?
Why? I'm still listening to the old. I need to fix this, SO, I'm glad this is the first release in a while from Dischord that I've heard to ease me in, (except for The Evens records actually) this debut from Mackaye's band mate and drummer Brenden Canty (guitar + vocals here), was formed with Rich Morel (Morel, Blowoff) and Medications rhythm section Devin Ocampo and Mark Cisneros in 2009.
This self titled album then for that matter unsurprisingly sounds like a band with no pretension or real message (unlike Canty's former band), they are clearly just enjoying themselves with nothing too intense on the soul, good times (on average).
Track one Better than Bad sounds like the theme tune to some buddy movie from the late 70's with a clearly upbeat motown rhythm (when is motown never upbeat?)…added for full effect are vocal oooh's and ahhh's that would creep onto a battered Small Faces vinyl in your parents attic. This is melodic rock in a left to right head shake while clapping your hands and grinning sarcastically, for there is, lying deeply within, a slightly dark undertone somewhere here, things aren't all good for this band, and quite rightly so. When is EVERYTHING all good in life? It's like being in a good mood then finding a part of the sole on your new shoes becoming unstuck, but fuck it.
Low Lying Dreams is a more brooding melody all together with three chords from a piano leading the way and a husky voice as if Mark Oliver Everett has just walked into the room. This track glides and swirls around this building motif that's reminiscent of some of Radiohead's late 90's work. The finale of "I'm out of my mind, it's taking me over" reaches climax and the band are now finally warmed up and are finding their groove playing out the track in jam mode and a brilliant entry of a cleverly catchy guitar line that sticks in the head afterwards.
The current mood stays fairly steady until Dali's House bursts into your room like a drunken sister with a hair brush for a microphone, it's dorky fun that blends 70's disco and funk in a playful manner, oh wait, we're having a party over Santana's house. Actually, listening to the lyrics and it seems they wish they were having a party over various famous people's houses.. Nico, Kafka, Ali, Dali and even Kanye West's house (better than Fred West's house I guess). There's crowd sounds in the background that give it allot of atmosphere, playgrounds with cool kids pulling the shapes from the 70's and 80's with boom boxes blaring into the air "vibing" on life. There's nothing wrong with a bit of melancholic pop rock and pastiche disco but I need to be in the right mood for this track, right now I'm the grumpy boy having a kitchen party with an iPhone but it is fun, just give me a minute to get over my sulk.
The latter stages of the album continue to mildly swing in a positive manner, there are spaced out improv jams Grateful Dead (cliché intended) esque sections and some catchy pop melodies looming in and out between the sweet but sombre mood and there are strong performances from drummer Ocampo and bassist Cisneros who hold everything together in a prog pop landscape, especially on last track Transmission that heads off into the sunset of Mexico in victorious fashion in near 9 minutes. It's a Friday morning album, not quite one to initially pump you up for your weekend but more to make you realise you still got some shit to do before all things careless for 48 hours. So overall it's a good jam record that's happy not to push the boundaries but it's not completely un-interesting, it's very well put together and isn't sloppy in the slightest. Although if a challenge is what you want then there are plenty other options elsewhere in music but this is an easy record to enjoy.
Deathfix is also worth a listen if your big on geeking out with Dischord records (or current Sub Pop for that matter). Go on. Check it out. It won't offend you.