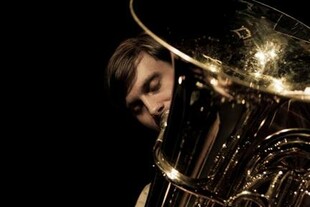 I work with a guy who plays the tuba. He's in his early twenties, unattached, no mortgage, kids, long term girlfriend- so he gets moved around a lot. This year alone he's lived in Hemel Hampstead, Dublin and Inverness, so he travels light. The only thing which causes him any ballache is the tuba he carts around with him- there must be some labour of love involved in being a tuba player.
This is my initial reaction when I picture Norwegian doom metal band Sunswitch's Kristoffer Lo paying the excess baggage to haul his tuba half the way across Europe to record this solo, atmospheric drone record in the South of France.
Good for him that unlike the more poseurish end of his peers in this genre, he hasn't inexpertly appropriated some kind of 'world' instrument like the Gamelan or Indian Harmonium or that bowl of water thing, to then whack through some illegally downloaded native instruments guff on the iMac- he's actually started off from a point of musicianship and in the end creates a carefully considered and very creepy, dark drone.
You could say it's actually in 'movements'. It starts off very minimal and creepy, building about 15 minutes in, with large ominous waves of bass noise, slowly gaining more presence. 25 minutes things start happening in the background, weird echoes, the peak is at about 37 minutes, slow fade out- its never maximal - it's all very atmospheric, feels quite cold, icy and bleak- although very far removed from the ambient elements in Norwegian black metal, it has a similar evocative tone.
At no point does this record sound like a tuba, so if you are put off by the idea, I wouldn't on that basis- it's very far removed from a colliery brass band. If you cast your mind back to a few years ago, it's reminiscent of noise musicians like Culver or Bjerga/Iverson. If you like anything from DIY noise record labels like Beartown or Firstperson, or read WIRE magazine- give it a go, otherwise, as it's quite hard work and might stretch the limits of a more casual listener's attention span.