After ambling around the maze that is the Manchester Academy, in a Spinal Tap-esque backstage hike, I finally managed to get to the dressing room of the Sword.
Whilst bongs were carved out of apples, conversations about Snoop Dogg's latest name change and Sade cruised smoothly out of the internal speakers, I managed to grab some time with the Sword's frontman, J D Cronise.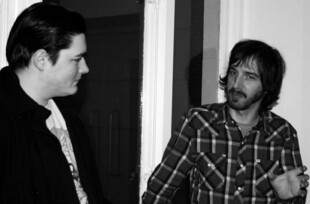 Sam Orr catches up with J D Cronise
9hz: Has England and the tour been treating you all well so far?
Good so far, other than the weather! When we landed in London we were surprised as it wasn't that cold and it wasn't raining but then the next day, you know...
9hz: What are your combined influences? Like who inspires The Sword collectively?
Yeah, a lot of Thin Lizzy, ZZTop, Black Sabbath, Led Zeppelin, ACDC, I just got the Moving Sidewalks reissue compilation (very early Billy Gibbons ZZTtop band) it just came out. We all love Steely Dan, The Melvins we all listen to all kinds of stuff really.
9hz: As a string of albums goes, yours is proving to be pretty badass the world over, do you think you'll continue to run a different theme for each album?
I know people that would beg to differ! I'm sure every album will be somewhat different from the last; I think with the first two, I kind of wanted to pick up where the last one left off you know? I felt that those first couple of albums need to be your foundations and to kind of establish a sound. The thing that will always be there is just trying to make it heavy but as far as what form that takes, it will always be a little different.
9hz: With regards to recording, do you tend to use different techniques in recording in order to keep it retro or do you embrace any digital stuff?
A little digital stuff yeah, with the last record we recorded all the rhythm tracks on tape and we use all old-school tube amps. Guitars were recorded into pro-tools but it was just all our own amps that we use live. We don't like to use racks of processors or stuff like that.
9hz: Do you feel that it's getting harder for bands to get a start up playing loud riffs these days without being branded as Sleep or Kyuss wannabes?
It can be, it depends on how you do it, how you go about it, especially now more than ever you have to put your own spin on it. You can't just try to imitate Black Sabbath or Sleep, I mean everybody is playing minor pentatonic scales, down-tuned, mid-tempo things, you have to do it in your own unique way, you know, make it your own.
9hz: Which album was the most fun to work on and record?
That's a good question, they were all a bit different, recording is work, is kind of fun, I mean it's always fun hearing what you just did but it's not always that much fun doing it. The last record was a good experience and was pretty easy as everyone was getting along and us getting along with Jay, the producer, we had a good time doing that.
9hz: What equipment are you currently using on the tour?
On tour we use rental gear; we have an endorsement with Orange amplification so they give us amps to use. We're currently using Orange Rockerverb 100w heads, in the states, Kyle uses old Laney AOR heads and I play an AD140 Orange. Kyle really wants an old Hiwatt head he's been looking for one but they're really rare and kind of expensive. That's his dream amp, for sure.
9hz: Have you seen any bands out on the road that are worth a mention?
Yeah, definitely, we try to take bands that we like out on tour with us, Lonely Kamel's really good, we just met them at the beginning of the tour actually its funny, they kind of remind me of a band that myself and the old drummer from the Sword used to have, in about 1997-98 but they are lots better! If we had kept at it and gotten better you know? In the States we toured with a couple of bands that are friends of ours from Austin called American Sharks and one called Eagle Claw, they are all instrumental and American Sharks is like punk rock-stoner rock trio. They're really good. We also toured with a band called Gypsyhawk that are like Thin Lizzy from California.
9hz: Did you feel that after the drummer departure in 2010 The Sword wouldn't continue?
No, we had known for a while that he probably wasn't long for the band, we expected that he would part ways with us, we were hoping that it wouldn't be in the middle of a tour...we'd hoped he would've picked a more convenient time to make his departure. We knew that was coming at some point. He's an amazing drummer, one of the most amazing drummers I'd ever played with but as far as an individual and getting along with him in a band this was not for him, it was not for him and we knew that for a while. Jimmy, our new drummer he fits right in, it's much more cohesive with the four of us.
9hz: The latest artwork on the album and on pretty much your entire back catalogue is awesome, what artists inspire your cover choices?
The concepts for the covers are the artists themselves, we send them the demos and let them come up with their own ideas. I always have a little bit of input here and there. With this new one, we reached out to J. H. Williams the third, who is a pretty well-known comic book artist in the states who did a comic with Alan Moore called Promethea that was very esoteric with a bizarre subject. That's what made me think he'd be a good candidate in what we were going for with this record. Now he does Batwoman for DC comics, he was great fun to work with. It's cool because it's a cross-pollination of the comic book scene and our fans, he's got fans that had never heard of us but will buy the record because he did the cover and likewise we have fans who will now seek him out too.
9hz: If you could all meet and party with another band from the history tomes, who would it be?
I'd have to say Zeppelin.
9hz: Hence the symbols in the new album right?
That was actually the artist's idea, I mean there's a symbol for every song as well as each of us, when we saw that we were like, ahh! Four symbols, Led Zeppelin IV?! That works!
9hz: What was the last record you bought or downloaded?
I think it was 'Across The Universe', the live Justice album, I love Justice man. I saw them in the states just before we went on tour, it was one of the best show I have ever seen, they had these walls of Marshall stacks filled with L.E.D.'s that were just so amazing.