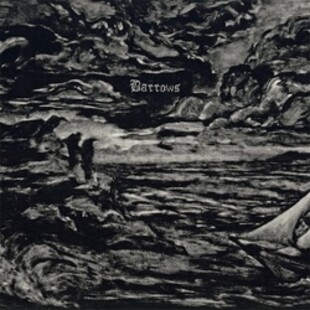 I always like to have a scan of the internet to find out some information before I write about a band, just to get the general vibe, but with Barrows, there was very little to find, apart from the fact that they are a post rock band from Los Angeles, who have drawn comparisons to Latitudes, Pelican and And So I Watch You From Afar.
Having seen those three bands live, I cranked the speakers up and dived straight in to the album to see what lay before me.
And what a way to begin, Wrath of the Sea really is a brilliant song, and as you may know, I'm not a massive fan of post rock and their tendencies to drag the song on for far too long, but even at just over 8 minutes long, I was willing this song to just continue, all band members working harmoniously as one to produce a joyous beginning to the start of the album.
With the title track coming up next, Imprecari Island, takes things a lot slower and allows the listener time to experience the subtleties of the music. There is nothing overly complex about what Barrows play, but they showcase their undoubted talents perfectly in the opening few songs. Delivering a wide tempo, with precise guitar riffs and allowing the crisp and dynamic drums to add value to what the bass and rhythm section are playing, an eerie calmness is evident.
On the epic Red Winds, they start to express themselves a lot more and deliver a song that is very near perfect. Musically, this song juxtaposes their instruments together fairly effortlessly and combines to make a song of sheer beauty. You are taken off in so many directions, that you are likely to meet yourself coming back from where you have been before. Just as you start to drift away, they hit you with such a killer riff, that your head wonders what has hit it. Time really does fly when you are having this much fun.
Much of what they play certainly wouldn't look out of place on a soundtrack to an edgy drama or crime thriller, such is the way that these guys play. You can feel the passion and energy that they possess and it's demonstrated throughout each song, clever, precise pieces of intricate music, meshed together with the recurring theme of sheer excellence. I also really admire that fact that they haven't stuck to conventions of post rock gloominess and dragged out every song to 8 minutes and beyond. The shorter songs add more context and balance to the album and make the longer songs, like the wondrous Pirates linger around your head to give an introspective twist.
This album is exceptionally good, in fact I would say that it is damn fine slice of post rock instrumental goodness and I'm really pleased that I can now add Barrows to my list of must see bands.