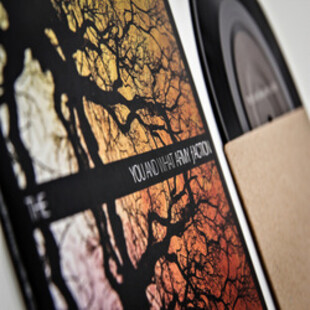 You And What Army Faction are a Greek experimental outfit who demand your attention from the moment their weirdness begins.
Imagine if the excellent Sightings dropped the static and melted into a smear disconnected drums, bass, guitar and mumbled vocals. Silk is being released on Rough Trade (always a mark of quality) but even this is obtuse for them. The title track has equal parts meandering bass, stabs of restrained guitar and almost whispered missives throughout. It's the sound of a plan for revenge spoken softly into a dictaphone, being played over a hung over, disinterested improv band.
If financial austerity measures could be recorded, this would be the sound. You can imagine this being looped in an empty supermarket where everyone has lost their jobs, the tannoy button taped down and this floating, unreal sound floating over bare shelves and stark strip lighting. The closing track Keep Calm, It's Only Deathneck takes on a dustbowl town country sound at points, with dub-like amplification manipulations only adding to the feeling of resigned dread.
It's a curious and deep sound, which makes for a special 7" indeed. As far as I can tell its limited to 500 copies, so move fast as it's worth giving up around ten minutes of your life to hear.