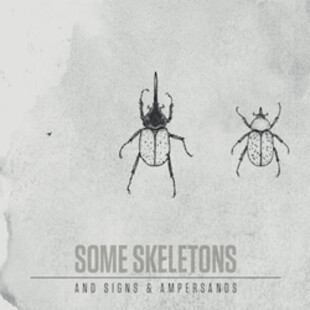 Nottingham's Some Skeletons are a find, they really are.
The Lincoln-based record label Mountains of Records has been quietly plucking up some of the most interesting bands around the east midlands and seems to be aware of excellent music bubbling under the surface.
I've put off listening to this debut EP as after seeing them live back in the Autumn, I've been wondering if they could reproduce their excellent sound live onto record. I needn't have worried, their warming, wet-eyed musings still have that stirring and emotional fragility I witnessed in a room of barely 30 people.
With three vocalists who chime in together in a way that brings to mind the neo-folk via Americana of Band of Horses or Grizzly Bear but to compare them to others seems insulting. Witness the building crescendo that is the amazing Squall which imagines the power of nature rearranging furniture and brings to mind imagery first conjured up in Ted Hughes poems like Wind (The windows flex like the lens of a mad eye and the stones cry out under the horizon).
The brief Vulture showcases the almost choral nature of their sound, with calm strings laid over their group vocals, this band seem wise beyond their years.
The sound comes to life for the more upbeat Clearing which bundles along with the surety of modern indie, but twists and turns with mathematical precision too. The brakes are set on at the right points, but the almost acapella parts never seem trite or cloying.
EP closer Fervour Spent has more choral group vocals before exploding into a more metallic and fat sound, complete with feedback screeches, but it doesn't undermine their gentle, calming sound.
An album is what is needed from these guys as an EP simply doesn't show enough of what I feel like they are capable of. It's a case of putting their head above the parapet then, can't wait to hear more.