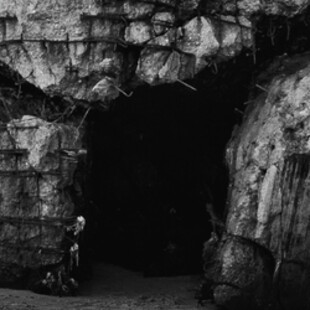 Amenra are a behemoth of a band from Belgium who have seriously taken on their own shifting, hypnotic form in recent years.
Once seen as simply a post-metal band too similar to the rest of the pack, I first came across their dark, brooding sound in 2007 at Roadburn and I've followed their progress ever since. They are far from also-rans of the genre they are pigeon-holed into, having a way of adding layer upon layer of riffs on top of one another that creates a drowning effect that swirls and draws you into its centre as it rumbles on.
Their live shows have always been better than the records, sorry, but it's a fact. They perform which such focus and with such a lack of visual ephemera (their video projections have been gradually becoming less and less about moving images and more about the darkness recently) you end up in a dumbstruck trance. Their set at Damnation Festival in Leeds was one of these crowning performances, brutally loud and pummeling until the end.
Previous releases of Amenra's music have been hard to track down, they tend to release on a variety of labels in varying runs, but for Mass V they seem to have found a home with Neurot Recordings. The LP version of this album comes with extra sounds ensconced within and some new mixes, but to be fair, there's enough happening here to keep you coming back for more forever anyway.
They've always moved with a certain presence in the studio, but with Mass V they seem to have captured that gigantic sound and bleak atmosphere on record. Billy Anderson surely has something to do with this, used to recording the likes of Neurosis et al, he has drawn their sound almost as if directly from the floor of a live show. The quiet, brooding parts of Boden for example, with spoken parts sounding like whispered threats burst into the towering monoliths of sound that take your face off live and this could well be the point at which Amenra take over as the most intense band on the planet.
The unknown depths of the mouth of a cave appear on the cover and venturing into its depths is a lot like sticking this album on at even moderate volumes.
If you'd written post-metal off as done and dusted, you know nothing of its power to wow and awe audiences still. Amenra have taken it to another level with this record and it may well trump all comers for my album of the year.