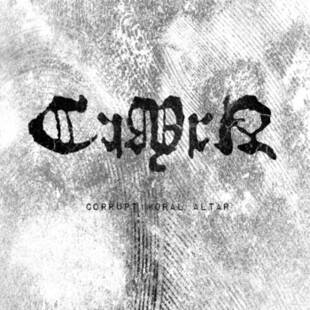 Corrupt Moral Altar are a grinding, spewing beast made up of members of the excellent Magpyes, Horse Bastard, Salem Rages and Malevolent Creation.
Yeah, that's a hell of a lineup and the band seems to be garnering some attention thanks to the crossover sound they have between brutalist grind and a sludgey underbelly.
This demo has a sandpaper-like quality to it, the guitars churn below vocals seemingly recorded in hell, high pitched and piercing one moment, a full on Benumb/Haymaker-style bellow the next.
First track Stray Dog/Power Whore has more ideas thrown at you than most grind bands manage in an album so that's impressive off the bat, but it's sheer force is where the appeal is. The vocals are mixed a little too high in the case of the high-pitched end so it's a little cloying, but you can overlook it thanks to the sheer quality of material being presented.
If you've ever wanted bands like Agoraphobic Nosebleed to take the pedal off the metal (albeit briefly) for some sludged-up riff breakdown sessions, Corrupt Moral Altar might be the band for you. It's far more interesting than most grind we get sent purely as it's not a race to the finish like most forms of the genre take. Here we have space in between the blasts for some equally effective riffology that gives it a post-industrial feel that's unpleasant and grating as that sounds.
This is the kind of band you don't stand at the front for unless you want some impromptu microphone or guitar head dentistry action.
Thoroughly brain-melting and cathartic, more please!
Listen to it here.