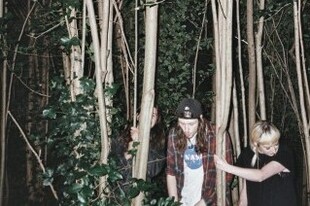 Throne are a three-piece from London and have a doom-laden sound that is as much High On Fire as it is Sabbath.
This 7" single is worth hearing for the guitar tone alone, both bass-heavy yet melodic, it drives their sound brilliantly, leaving plenty of space for the clean vocals to shine through. The song Heavy Lies The Crown brings to mind Bradford's 90s pop-doom stars Khang and their noddable and infectious grooves.
The title track begins with austere open notes, giving way to a riff that has much more in common with the likes of OM, eastern-tinged and slower. The vocals have a chant-like effect which sits well with this more lumbering pace. What this release does is introduce you to what Throne can do, however an album would probably be more welcome. An incredibly positive start, but all too brief.
Note: I used to be in a band called Throne, we didn't sound like this. We had a song called Freewheelin' that is still shouted at me two bands later it was that bad.