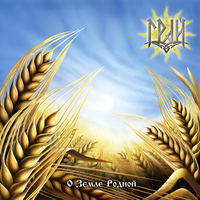 Grai are a folk metal band from the Russian Republic of Tatarstan and go off like a firework in a music shop.
Seriously, the opener on O Zemle Rodnoy, entitled Pshenychnaya (The Wheat Song) sounds like someone set off all the keyboard demos and got all their mates in to play every other instrument in the shop over it. Once you get past the initial cacophony of woodwind, thrashy guitars and incredibly fast vocals it's a pleasant enough sound but still sounds somewhat unhinged. It's just so fast and spirited it will probably knock you for six the first time you hear it.
The band was formed in 2005 so must have had time to perfect this intense and unique sound. They play a variety of traditional eastern instruments on here such as the Gaita Gallega, kalyuka and Jews Harp. The female vocals are layered like on songs such as Pesn O Zemle Rodnoy to great effect. Presumably telling stories of legend and proud moments in ancient Russian history, the overarching feeling these songs project is one of celebration.
For a point of reference, think of the almost ridiculous sounds of black metal via polka like the Finnish band Finntroll plays but with a heavy element of eastern Russian folk tradition running through it. I can imagine this going down well at a beer festival, the unrelenting, upbeat sound would lend itself well to an atmosphere where the main reason for being there is to get sozzled and have a good time.
This is also the kind of act that would do well either opening or closing the infamous Wacken Open Air festival, the denim and leather clad masses would love this. The right combination between trash/pagan metal and quirky, unusual instrumentation, it would certainly either perk you up for a weekend of metal or be the perfect drunken sound to get messed up to. It's out in December on Vic Records, so look out for it.