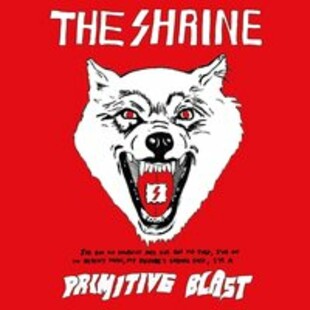 A few months back, I witnessed the mighty Fu Manchu slay all in the Ruby Lounge in Manchester, the support band at the gig was a little-known band called The Shrine. Unfortunately, due to me and my brother being lazy arseholes, we missed The Shrine play their set.
Now, as I mentioned in the review of the mighty Manchu, skateboarding is the thing that led me into all these fuzzed out, fat riffs of the Fu that I continue to enjoy to this day and when I was hemorrhaging money at the joint merchandise table, I noticed that the support band had an actual skateboard deck for sale with their album cover on it.
This intrigued me no end and I enquired to the hairy chap purveying all of the wonders of merch what The Shrine were about, he asked if I'd seen them and I sheepishly explained how rubbish I am about getting to gigs or anywhere for that matter, on time. Readers take heed; it's so bad that I missed Torche playing with Pelican in 2008. Lame, I know.
Anyway, the dudes from The Shrine hooked me up with a free copy of their album, Primitive Blast after I explained that I was reviewing the show for the 'Hertz.
Opening this album is a doom-punk anthem known as Zipper Tripper, not to be confused with Witchtripper, this track lumbers in making the listener think that they are in for a slow doom-burner but they are quickly forced into switch-stance with a tempo change and garage punk stomping riffs. Later on in the track we are treated to the doom intro again and a right face-melting solo with some fierce vocals.
The next track to come stabbing into your eardrums like a skateboard up your arse is the albums highlight, Whistlings of Death, this banger has a riff that would make Taint worry, and it burns around your head like Jay Adams in a freshly drained swimming pool. This track also features probably the coolest follow-up, falsetto vocals I have ever heard, RREVOLUUUUSHAN!
I never thought that I'd dig specifically skater-orientated punk but I don't think that anyone has carved over the light as much as these mothers have, cascading riffs, vocals about freak fighters, screaming guitar solos that battle it out with the vocals for the spotlight. If I wasn't such a lazy shite and was able to get up after slams, I'd be skating all day to this. It's like Black Flag fucking Black Sabbath then giving birth to baby Cacti.
The next track thumps its way in with some genuine punk-rock with added doom hints; this is the kind of thing that you can imagine a muscle car gunning down a highway driven by a zombie. Yes, it's that good, conveniently called Run the Night.
The title tracks hits next speedy guitar work comes into play here, as a guitar player, it's nice to see a player using a Hendrix-esque set-up of Stratocaster and Marshall which is seldom seen these days due to everyone wanting to actively stereotype themselves and play whatever Brent Hinds uses. Not The Shrine, get your wah-wah pedal out too dudes, you fucking rip.
Louise is up next and what a girl she is, I haven't even met her yet I like her, it mixes a swift snare roll with a Hendrixian chord progression with some mach ten force vocals. This track incorporates very slick usage of delay on the fuzzed-out vocal too, I wish everyone did this, and it just sounds utterly badass.
The next track to grace our ears is Wasted Prayer which has numerous meanings therefore making it an ideal name for a song or even a band, first option is probably better as it may be perceived as slightly emo... I'm pleased to report that there is nothing even remotely emo about this banger. The chord progressions build up and the wah pedal is back with vengeance. What did you expect? Not this son, not this at all.
Feedback summons the next track and an intro that Iommi himself would be pleased with, the punk aspect is mellowed out in this one, and I can only assume that someone bought a bong with them to practice, lyrically this track is one that we can all relate to, few beers after work? Yeah? Few more? Yeah?
Oh...wait...I'm shitfucked and it is only WEDNESDAY!
Best get a McDonalds inside me and drink some water, fast. If the above has happened to you, put this on during your illegal drive to work and try and find some solace in like-minded idiots, you're a drinking man too.
Deep River (Livin' to Die) is the curtains for this master class in psychedelic-doom-punk-garage-skate-rock. It closes the album off perfectly, vocals are prominent in this one too, beautifully fat riffs and plenty more wah-wah pedal. Nice. The whole album is worth a go on their bandcamp or if you are feeling flush, get it bought and why not treat yourself to a deck as well?
These guys wear their hearts on their sleeves that was before they cut their sleeves off and went skating, I span this disc in the car for two weeks and still, it sounds fresh, it will stand the test of the times. I guarantee that you'll dig the revolution...RREEEEVVVVOLLLLUUUUSHHHAAAN!