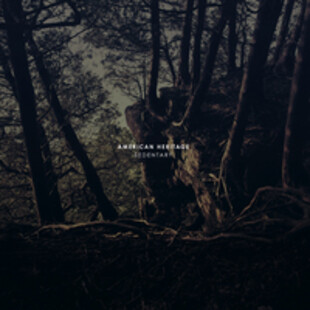 American Heritage are one of those bands I've lost track of.
Introduced to me back when Mastodon did a split on a 7" picture disc with them, they don't seem to have changed one jot. Fast, angular and somehow fast and sloppy at the same time, it's almost like Remission-era Mastodon with influences as wide as The Sword and even Meshuggah, without managing to sound dull and repetitive. There's a warm and skull-splitting guitar tone at work here among the skittering and often forceful riffs.
Chaotic Obliteration is just that, leveling your ears like a steamroller of riff. The vocals ring with a clean sound however, it's not all deathy grunts and screams, it's (gasp) melodic and tuneful. On following ditty Vessels/Vassals it sounds almost like a rotten sea shanty or at least a trip on a particularly swaying and unsafe boat and kind of transports me back to seeing the M-word at the Underworld back in 2002, all a million riffs a minute and no pomp, excellent.
Mastodon's Bill Kelliher even pops up and guests on bass and a guitar solo in Fetal Attraction which perhaps can be a contender for worst track name of the decade, seriously.
Elsewhere like on Tomb Cruise they tend to tread water with the chuggery, so only investigate this if you're into a heavy bashing around the chops as it rarely lets up. A lack of dynamics could well do your head in after a while, it's like doing ten rounds with a guy who insists on filling his gloves with sand.