Yes it's that time of year again, the weekend we all look forward to and this year was the always-reliable Supersonic festival's 10th anniversary.
And what a way to celebrate ten years of diverse, unique and bonkers music than to fill it with one of the most engaging line-ups yet.
Friday
Friday night at Supersonic is always short but sweet, with seemingly more people there for the opening than ever, one exciting element was the Small But Hard showcase taking place in Boxxed (the smaller warehouse stage). Starting with a set from a stripped down...
DEVILMAN which is DJ Scotch Egg, or Scotch Bonnet as he is known these days on bass guitar together with Dokkebi Q making an almost live dubstep sound with pulsating bass that closes up my throat and makes it hard to breathe. It's danceable stuff and a real sledgehammer to begin with, although vocals would have been amazing too (they usually employ the skills of Bo Ningen as MC.)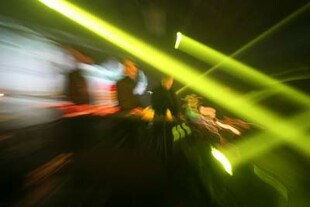 MODIFIED TOY ORCHESTRA have played nearly every time I've been to the festival (the last five years now) but I've managed to miss them due to the clashes present. Catching a good half hour of their stylings is a pleasure. Like a Kraftwerk concert invaded by the mashed-up cast of Toy Story, their bleeps and robot voices give them a charming and captivating sound. All dressed in black suits they have the Kraftwerk look as well, but there's smiles there you wouldn't get from the German calculator fans. One highlight is the Hawaiian doll manipulated via her arms and legs to produce different sample sounds and one of the members wrestling with a Speak and Spell.
KAKAWAKA is a chubby guy in a yellow t-shirt, stripey paedo waistcoat and bermuda shorts playing a turkey fork. Is there much more to tell you? No. It's sub-Justice Yeldham stuff (the guy who plays a sheet of glass and bites it/smashes it in his own face) so this is low key in the danger stakes. He does have the comedy element though, attaching balloons to the fork to make stretched-out and weird sounds but the real highlight is watching the tough-looking female security guard standing in front of the barrier trying not to crack and failing miserably. Surely used to working arena stuff, this must be way outside her comfort zone and she can't stop giggling at the Berlin-based goon on stage. Brilliant.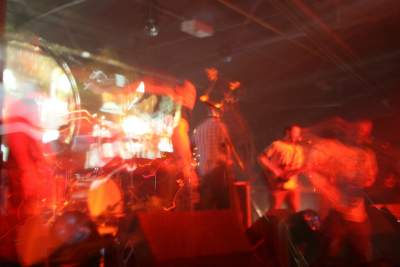 HEY COLOSSUS are one of my favourite bands, so this is totally biased to the point of silliness but it's so good to see them playing the festival and to be dominating the main stage. They are a highlight of the evening, loud and on usual motorik and psychadelic form, their addition over the last few years of a frontman has made their original sound seem obsolete (although I have a soft spot for early albums too). New songs lurch around the Warehouse stage with ease and a fuzzy rendition of 45 Pounds sounds massive, it's doomy refrain could have rung out forever. So proud to see a band who work so hard and have been consistently creative reap it on a great bill like this.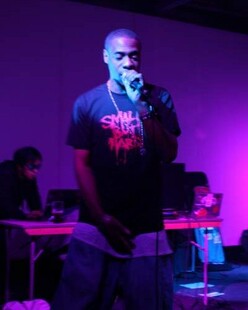 SENSATIONAL is possibly the weirdest thing I've ever seen at Supersonic, and I've seen five years of glass chewing, fake fog, laptops and improvised jazz. Formerly known as Torture when he was in the Jungle Brothers in the 90s, Sensational is a rapper with a flow that's impressive, when he actually manages to deliver a line. The hip hop equivalent of Mark E Smith, he is out of his mind on something and whenever it gets going, he stops his backing partners from the Small and Hard showcase Scotch Bonnet and Koyxen who are doing their best to keep it together. in the two hours he was on stage, he requested two changes of t-shirt, a drink for his birthday, several renditions of 'Happy Birthday' to be sang to him and kept asking us if we were 'zoners' or 'libras'. When his Japanese buddies finally gave up, he starts playing with the equipment, only for another one of the Osaka gang to come on and do some impromptu vocals (he was quite good). Eventually the Small and Hard label guy pulled Mr Sensational offstage, but that was the funniest and most awkward thing I've ever seen. Apparently he does this at every show.
Saturday
For the first time, I attended a panel discussion in the theatre area of the Custard Factory, I'd seen the excellent Barn owl deliver an ambient set in there in previous years, but the editor of The Quietus was holding court with Eugene Robinson of Oxbow, Penny Rimbaud of Crass and the head of Thrill Jockey Records (replacing an absent Jarboe). Although a slightly pretentious talk on the nature of art and music as a commodity, some interesting points were raised. Hearing Eugene's often hilarious stories was worth attending for alone, tales of threatening to burn down a record shop in an effort to get paid or having to make the choice between eating and paying practice room rent brought home that even our heroes don't get the recognition or money they deserve. Rimbaud came across as a sanctimonious type, but his jarring views were great material for the rest of the panel to bounce off, brilliant stuff.
HOOKWORMS are a Leeds band who have ridden in on a wave of hype but I'm glad to say it's justified, part shoegaze, part post rock and a little smidge of pop, their delay-ridden sound is mesmerising. With a frontman throwing his all into the performance, it's a great set to witness. It doesn't let up for the whole hour and there's a roar of appreciation at the end, must check out their album.
BOHREN AND DER CLUB OF GORE are swamped by a lack of light and sea of smoke machine fug. Their dark jazz permeates all this however and it's relaxing and deeply unsettling at the same time. Walking in there from the ferocity of Hookworms was like entering a cave, but it was a cave in which the soundtrack was cool, effortlessly so.
FLOWER/CORSANO DUO impress, but this is perhaps the fifth or sixth time I've seen them perform and I know what to expect. Closing your eyes and hoping they synch up is always fun though and they manage to intertwine Corsano's mad percussion (think of an octopus with sticks) with Flowers million notes a minute on his Shahi-Bahja (Indian fretted string beast) several times. Lovely as ever.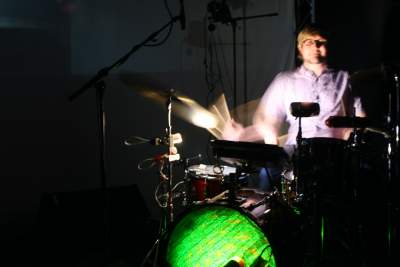 WARM DIGITS are perhaps my highlight of the weekend, a duo who play something so motorik it resembles a motorbike cruising through a German city, they are just incredible. The drummer manages to clatter away at speeds that blur his motions in the dark surroundings of the Old Library stage while simultaneously operating an ever-changing projection sequence. The guitarist sets off samples and loops his machinations to create an almost pop gone screeching digital party sound and it's just uplifting and exciting. The drummer even gets away with repetitive use of a cowbell, kudos for that, not everyone can make that thing sound good.
RANGDA sounds great for the final ten minutes I catch, Corsano is joined by Six Organs of Admittance chap Ben Chasney and Sir Richard Bishop and the endless interplay between the players is excellent. Complex but also psychedelic and loose it's a jam-like composition I hear that's free-floating and mystical.
DRUNK IN HELL are drunk, well the scary lookign singer is anyway. Their repetitive guitar workouts have bored me before, but with a little beer they sound amazing. Top marks for lyrics by the way 'I'm an arsehole/I'm a fucking arsehole' always sounds good screamed down a mic over feedback and clattering drums. Cool.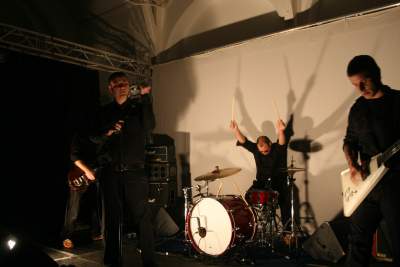 DOOMSDAY STUDENT are members of Arab on Radar and The Locust and couldn't sound more like them if they tried. Lots of silly sliding, clip-clopping drums and vocals that are sassy as well as sleazy mean this is incredible. All wearing matching black shirts and trousers as well as orange flash trainers, they look like The Hives on a downer. The vocalist flails about and throws his mic in the air and catches it as if he's just learned a new trick and it's so much fun. Will be looking for an album for sure.
ZENI GEVA were a revelation in previous years, but a lineup of just mainman KK Null and a drummer means it falls a bit flat and the audience look a little jaded. Shame, as the stoner rock/doom stylings he usually pulls out the bag normally sound amazing.
Sunday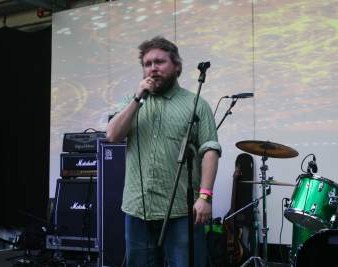 RICHARD DAWSON is a folk singer/musician from the North East, he spends most of his set telling us unconnected stories to chew on and it's a lovely, gentle introduction to the Sunday. Oh and then he recounts the tale of a horse dying, acapella and solemnly. In his course of daily work, he came across a scrapbook full of newspaper clippings from the 1700s, one of which was a story of three men who set about brutally killing some poor equine. He delivers a coda of Poor old horse, poor old horse, hear what they did to the poor old horse and I'm still singing it now. the excellent Man Has Been Struck Down By Hands Unseen closes his set and it's gorgeous, all highs of voice and lows of acoustic warmness.
SIX ORGANS OF ADMITTANCE are a swirling, jarring mess of sound. Just like their albums then, nice. The chops and changes Ben Chasney weaves in remind me more of Comets on Fire than the mellifluous folk he sometimes comes out with on SOOA stuff. He is of course backed by CoF members so it makes sense. There's times when his tuneless, staccato rumblings synch perfectly with the bass and drums to create an illusion of rehearsal, but it's great to hear someone improvising in such a free and unrestrained way. I once read a description of Mr Chasney where he was described as 'mincing across the stage like a jellyfish scared of its own erection' and that's true to a point, but it doesn't take away anything from the performance. Breathtaking.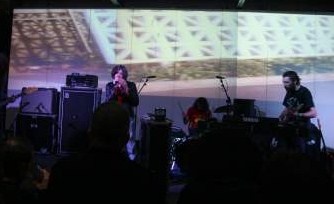 GNOD now have Alex from Manatees on drums and their endless repetition calms the mind like a walk in the woods. Motorik but all the more organic than that suggests, they are from the Hawkwind school of riff (if it's good, labour it ad infinitum). The vocalist wails into a delay pedal and adds a space-like vibe to it, but the projections and endless beat send many around me into a reverent trance. Check them out, they are bound to be playing some tie-dyed commune near you soon.
ISLAJA is an altogether more noisy prospect than I was expecting, having heard her debut around 2006 it was quiet and cute. She's still very cute, inviting us to 'come rest your ears with me.' She burbles at random into the mic through a set made up of synth patterns, samples and rumbling bass notes. It's skittery, seemingly unplanned and intrigues me, but it's perhaps too much of the same thing after a weekend of similar sounds.
LICHENS have played the festival before, or rather he, has played the festival before, but this is the first time his music has had an effect on me. Sitting in the dark of Boxxed alone, I let myself drift into thought while he manipulated his array of pedals, creating looping sheets of sound, peppered with static, ringing and droning. It's not anything out of the ordinary, indeed it could be anything from any noise bill across the world, but his sense of dynamics and psychedelia mean it's relaxing and other worldly, time to check out an album I think.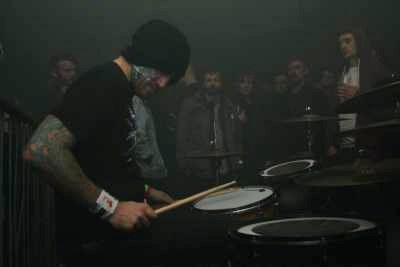 LASH FRENZY is a single guy who plays noise from Brum. Last year he went head to head with KK Null in the Old Library where the room was filled with white strobes, fake fog andtook on the effect of standing in a wind tunnel invaded by war. Guitarists were placed in corners of the room while Mr Null whiplashed ears with static, it was unreal. This year, it was taken up a notch, making the audience wait outside the Warehouse stage until it was enveloped with fog, a string quartet were in place on stage, at least two drumkits were placed in the crowd as well as a team of guitarists with stacks poised for noise.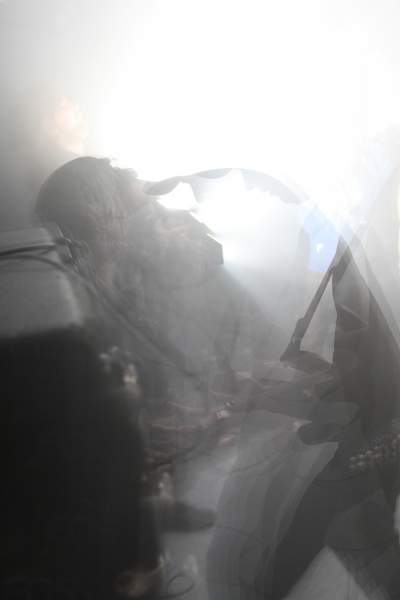 The strings, combined with distant rumbling from all over the warehouse made for a more unsettling feeling, shapes glimpsed through the fog and the blindness it caused was eerie. At several intervals, a topless woman walks through screaming through a megaphone and I overhear some security wondering out loud if she was part of the act. I think she was, which only added to the weirdness. How do they top this next year? Dropping a bomb on Birmingham?
ZOLTAN are a bunch of nerds keen on sci-fi according to the sacred Supersonic tome we are handed at the gates. This certainly shows. Sounding like Goblin or even more like the excellent Zombi, they operate on a bank of moogs, organs and a sound that could run in the background of Dr Who or Blake's 7. It's awesome and I'll be trying to catch them again for sure.
UFOMAMMUT I end the weekend with Ufomammut performing Oro in its entirety, but give up halfway through. It's great but never really gets going, not loud enough to rattle your fillings and not much to watch, it's a shame but I had to bail. Other than this it was another excellent weekend, full of suprises and old friends as usual. A special mention must also go to the Banoffee Toastie served at the festival, the only pudding style breakfast I've ever found acceptable, amazing.