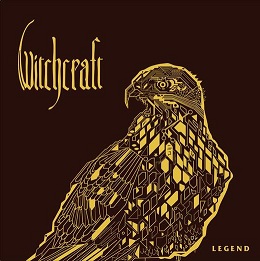 The return of Witchcraft is most welcome. Few have managed the retro rock doom vibes anywhere near as gloriously as the sound they have defined through their evolving back catalogue, without sounding tired, cliched or purposefully tongue in cheek. It has been a surprisingly long time since their last release - The Alchemist was ninehertz's album of 2007 no less. In that time, there have been large line up changes, Magnus Pelander has dropped the guitar to focus solely on vocals and they have moved to Nuclear Blast from their long time home on Rise Above.
So has the sound changed dramatically? Of course not. Legend is very Witchcraft, sitting somewhere between the more metallic first two albums and the mystical The Alchemist. The first few listens cause a strain of panic - as with all new releases from my favourite bands, excitement is tempered by a nervous trepidation - as stand out moments are noticeable by their absence.
If you're hoping to be bowled over by one big tune after another, as with the first four tracks on Firewood, then be prepared to be disappointed. Legend needs more time, but is worth investing patience.
Deconstruction opens things with plenty of bluster, a fast paced and enjoyable, if a tad lacklustre start. Flag of Fate is better, with a bold chorus in the great Witchcraft tradition and It's Not Because of You follows suit - the slow build to a grand finale heightening the enjoyment when Pelander wrestles control of your attention in his own special way. An Alternative to Freedom thankfully doesn't go down the southern states stoner sound the slide guitar threatens, instead offering a nice melancholic middle that demands repeated listens.
Ghosts House is only spoilt by the line "Evil thoughts are... evil", not the only awkward lyric to be found throughout. White Light Suicide plods along somewhat before correcting the misdeed of the last track, with more typical Witchcraft lyrical medieval mystery - altogether now "Magic ritualistic funeral pyrrrreeeee" - and a suitably stomping riff. The album tails off a little after Democracy, especially with the overlong Dead End.
What is clear is the power of Magnus Pelander, surely one of the greatest voices in the genre. His vocals are outstanding the length of the album - turning average songs into good and good into great.
Initial thoughts were that Legend falls into the paradoxical (yet strangely common) category of good but disappointing; "solid" perhaps, to damn with faint praise. But repeat listens allow the album to flower and at times I have to restrain the superlatives. Legend isn't the starting point I'd recommend for newcomers to the band, but it's a definite must for established fans, and a worthy addition to an incredible catalogue of music. Welcome back Witchcraft.