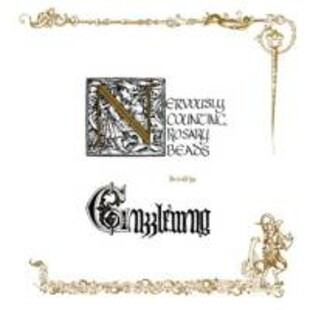 Nervously counting rosary beads? This title bemused me as I instantly pictured a nun or monk cradling his or her rosary beads, is this some kind of deep religious band or is it something that we should be aware of or fear?
I had thought my suspicions were confirmed when the intro to Guzzlemug's monstrous release titled as above came searing in through my speakers. Beginning with a curious vocal arrangement which is semi-death metal and gospel is a bold move and one which the band, have done a good job of.
Fuzzy guitars seem to blend in to the rest of the recording hopefully giving the listener what they came for. The anticipation of what could follow next is almost too much to bear. The band have shot from the same angle as many others seem to do these days which; is to have one long track instead of many. Kind of doing what Sleep did all those years ago.
I'm not 100% sure what the band have set out to do with this in all honesty, it drifts back and forth into semi gospel-metal and then into elements of stoner with a drummer who plays by his own rules.
There are interesting bits of guitar and drum work around 8 minutes in which; add quite a good variation and different feel to the following minutes. This guitar and drum work doesn't really go anywhere and has very little vocal action going on. I guess this part could be described as when the monk nervously counted his rosary beads.
String arrangements begin to appear out of nowhere around the 12 minute mark, these then turn into Ebow and reverb work and free-form jazz/nonsense/bullshit, pick one.
This calamity continues for the next few minutes with the guitarist doing his best dazed and confused imitation, the song filters into a peaceful break which is much needed after the onslaught of gibberish.
Heavy riffing interrupts the peaceful part though and we're back into progressive metal, I'm not sure where I actually am with this and I hear vocals too which; follow many prog-metal guitar freak-outs and drawl groaning from the lead vocal as well as hidden whispering.
I once hung out with someone that inhaled an entire box of the strongest magic mushrooms in Amsterdam; he drank four cans of Heineken with them. After I watched this happen, I grabbed the box and read the words on the back that read. 'Do not consume with alcohol and do not consume all at once' the complete opposite of what just happened in front of me. I then sat back and observed as the chap began hallucinating wonderful magic dust falling from his fingers, fantastic bold colours spiralling out of the room and its inhabitants...then came the darkness where I was asked to spoon him so that he didn't die, I had to answer all the questions he asked about why we are human and why we wake up every day...I reckon if I had played him Metallica's Ride The Lightning, he would have heard Nervously Counting Rosary Beads.
Anyway, this has been released on a lavish LP with gatefold and silk-screened inners etc. I guess it will probably end up being one of those LP's that becomes so unbearably valuable due to its individuality and progressive nature but in the UK, unless you have a wizards cape, pointy hat, tragically bad skin on your face and want to be Rick Wakeman then you will be sorely disappointed and want every penny of your money back for this.