Humble Lincoln seems to be getting its fair share of gigs these days and September has been no exception. With some excellent bands emerging and a decent amount of varied bills cropping up, it's about time I put words in some sort of order on one of them.
Having missed the excellent sounding Crossings (oops), Some Skeletons were taking to the stage when I arrived. From Nottingham, but on the excellent Lincoln-based label Mountains of Records, SS are perhaps best described as a more fuzzed-up and intense take on the oddball trend led by bands like Grizzly Bear and the like at the moment. That's not to say this is indie by any means, or even anything else. The three-part vocal harmonies are exquisite, each singer could easily perform the role of frontman. Their songs feature crashing diversions, punctuated by elongated vocal sections which mean it's highly emotive and engaging stuff. Watch out for these guys as they seem to be playing a hell of a lot at the moment.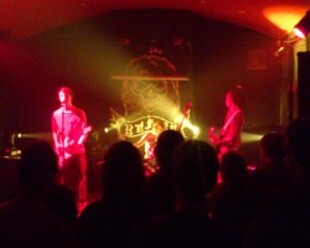 Blind Wives, who share a label with SS are not so lucky tonight, their grunge via AmRep stylings, all heavy repetition and almost a QOTSA vibe when it comes to the songwriting is marred by a muddy sound and a broken guitar string. This is a shame as elsewhere, you'll see how great their debut EP made an impression on us. Having seen them bfore, it's obviously just a blip, the crowd don't seem to mind so it's not the disaster I'm painting it as. Their songs, once they get going tonight, rumble with a bite that's more pronounced live than on the record too.
Edinburgh's Black International set up and there's just two of them onstage, an unassuming and quiet frontman and a drummer who seems to be enjoying having a seizure as he plays. Heavy on the Shellac/Big Black influence, but with some melodic vocals thrown in too it's the drums that have it for me. It's been a while since I've seen such a mesmerising way of playing, all fantastically-fast drum rolls and precision that suggests a military-esque level of practice. It's juxtaposition with the distorted and loose guitar playing makes for an intriguing sound that you might want to check out for yourself. The stage patter is amusing too, and features talk of the tour they are currently on visiting two Roman towns for their first two dates and out loud wondering of whether Norwich is one too (not really).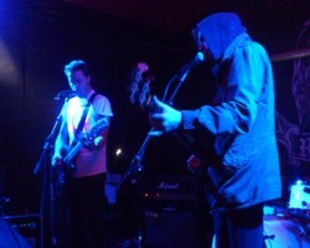 Headliners Shapes are a conundrum for me, disjointed and angular, their set boggles the mind musically. The three-piece have that unique trick of being in time with each other, yet all three members seemingly being in their own little world. Mathy to the point of irritation, their stop-start-wait-where-are-they-going? style is impressive to watch, but difficult to follow. They are incredibly tight and once they lock onto something, it sounds fantastic, it's just never focused for long enough to have an impact. If you love bands who squeeze in the ideas, Shapes are for you, but for many it will be a baffling and blinding experience. All three members writhe around the small stage as if electrified too, further making their spectacle all the more of entertaining prospect. Investigate if you like crazy time signatures and frenetic chaos, but if you're looking for a groove, Shapes are the wrong...erm... shape?