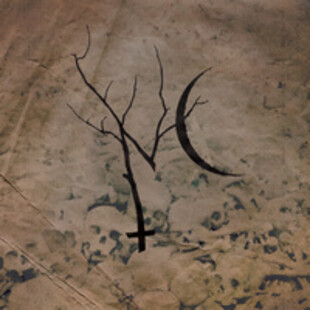 Born in 2004 to presumably corpse-painted parents, NettleCarrier is a frostbitten black metal supergroup of sorts.
Members of Ljå and Koldbrann teamed up and have so far only released one critically-acclaimed 7" To Strangle The Hero Of Heaven and have now finally come together with the drummer from Enslaved, here going under the name Dirge Rep (I think).
What is on offer is seriously trad black metal, lots of cold,hard blasting that the likes of Wolves In The Throne Room have sanitised a bit. This is throat-shredding and hair-flailing stuff, more cold northern wastes than dark, dense forests. You can almost imagine the wind lashing against the studio walls as tracks like the snow-flecked Paa vaare paaler deres hoder crash on and on into colder regions.
The vocals rasp, the drums clatter relentlessly, but there's a hell of a lot going on underneath, the guitars follow the usual scales and tropes of the genre, but flourishes of lead guitar pop in and out, giving the release texture beyond the mere generic. There's also some breaks in pace a la Darkthrone of old, riffs that could pass as doom metal of slowed down, you know the type. You can almost feel the claw forming in your fingers, ready to be raised aloft in grim salute.
The production is of the kind that black metal bands all tend to favour these days. Not rough as hell, but then not polished either (only Enslaved can pull this off) it gives you that raspy and bleak sound, but the ability to hear the best parts in perfect clarity too. It makes for a labouring listen and some parts could be Ruun-era Enslaved, but it's certainly a project that was worth waiting for.
Like the exhalation of some kind of mythical frost giant, this kind of album only occurs once in a blue (black) moon, so it's advisable to let it take over once you've decided to take a listen and let it swirl round your cranium. Listen for long enough and you might be able to hear the ice crack.