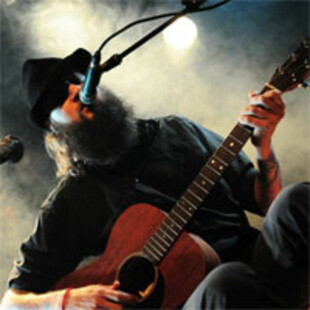 Well, hands up; I'll admit that I'm a newcomer to the solo works of Holehouse. This latest collection of recordings from the travelling soundscaper displays a well honed balance between gentle, relaxing repetition and outbursts of explosive riffery. The elongated title acts as a description of the song contents as lyrics are in short supply- the music does a grand job of conjuring images of desolation and devastation to match the apocalyptic premise.
TCH offers a flowing epic journey that rewards great attention but will confound any casual listeners searching a quick fix of kicks. Sometimes you've got to put a little bit of effort in as a listener to reap the rewards on offer; the circling loop of relatively simple passages has a hypnotic effect which also reveals subtle intricacies that could easily be missed by the inattentive. If you want cheap thrills, jog on; if you're feeling adventurous, buckle up.
This (almost) wordless expansive tract covers nigh-on an hour and a half, taking you by the hand and leading your ears and imagination on a blissful adventure. This is just the sort of thing for a late night blessed-out headphone session, or an ideal soundtrack to a long solo journey driving North on the M6 (the foreboding tension as the songs develop and burst into crashing crescendos make a fitting match for the drive towards Manchester as the inevitable dark clouds gather and rain whips down).
This release is split into four sections which complement each other and create a natural progression through the extended playing time. So, taking you step by step we begin with the suitably grandiose Earth. Vocals make a strained early entry to proceedings in a slightly misleading, altogether rowdier track than the rest of the album. The clean chords chiming behind waves of distortion and lumbering drum pummelling create a hypnotic effect until remission is found in the form of distant waves of oscillating drone-feedback. This lasts just long enough to slow the pulse and cleanse the palette in preparation for a clean, insistent guitar weaving its way into the limelight, picking up a driving bass line and solid drum accompaniment on its way. The combination creates a simple but effective mesmeric opening section to this venture through Mr Holehouse's world.
Ocean creeps in with delicate acoustic guitar patterns picking loops into your brain as restrained bass and drums lurk in the shadows….an ever present sense of unease lurks above the calm. An echoing sparse chord section suddenly springs to life in a mid tempo rocking outburst, its repetition providing an opportunity to appreciate the drum fuelled insanity behind the riffing, creating an effect similar to that created by Finnish metal-deviating lunatics Circle. A further heavy chord workout provides another unexpected treat as the song builds towards its dramatic conclusion in a blistering guitar-soloed abandon.
Flames slows the pace again with a mere(!) 16 minutes of gently struck chords and an off-beat drum backing. Although the tempo stays at the mellow end throughout, backtracking effects add a sense of unease and confusion in the place of any volume or discordant outbreaks of noise. Quieter listening doesn't necessarily mean easier listening but hey, that's not why we came on this trip is it?
Closing track Sky brings us to the journey's end through a 21 minute parting shot, with the enigmatic emergence of the sounds evoking a march through a bleak, barren countryside. The layers build up and transfix the ears until the loud guitars kick in with a simple yet effective variation on the preceding guitar signature. The volume is short lived, giving way to ringing acoustic arcs accentuated by the enticing sounds of a distant destination. Chiming chords are slowly joined by an insurgent marching drum which opens the door for another loud section of insistent guitars enveloping everything in a glorious chaos reminiscent of early 90s Swans as the song grows from near-silence to explosive violence. Acting as an epilogue, the opening guitar riff gently weaves back in, reminding us where we've come from and what an enlightening voyage we've been on.
Highly recommended for open minds and auspicious ears.