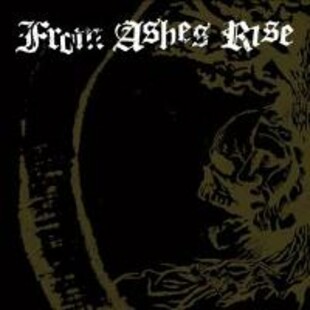 Apparently this is the first from Ashes Rise Material in nearly a decade, but you wouldn't be able to tell.
From the opening chords, 'Rejoice The End' sounds like they haven't been away. It's a definate stake in the ground as to what their return will no doubt sound like if they record an album (which I don't doubt they are). The first track on this lucious 7" bubbles with rage, but also a cathartic, ebbulient high as well. As it winds its way through the five and a half minutes, the ending brings it to a rightous crescendo. I'd rather listen to masters like this than half of the so-called hardcore bands doing the rounds these days. This sounds like it has balls and a message to put across, the lyrics sound proud and hold more water than your usual low-level assault.
'Rage of Sanity has more in common with New York hardcore or bands like Righteous Jams, that cool, self-assured sound has never gone away, it just seems to have been sleeping. I for one welcome From Ashes Rise back, music has died a little bit of a death as a result. Sometimes the oldest ideas are the best, get on this if you want your life and music taste affirming once again.