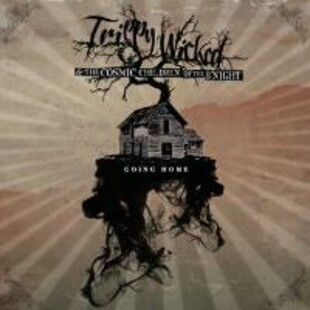 Some of the best things in life, musical or otherwise, do exactly what they say on the tin. If you've come across Trippy Wicked, the St Albans' masters of good-time psyche-sludge, before this, their fourth record, you'll understand the following: that you're about to go on a cosmic trip, that it'll be wicked and that when they've taken you on the perfect (k)night-out from another dimension, they'll drop you back home safe and sound afterwards. Other than writing a secret bonus track about eating a kebab or bag of chips on a nightbus, you really can't say fairer than that.
Going Home feels like the natural successor to 2009's Movin' On in many ways. The trio are still bruisingly heavy, no doubt thanks to the solidity of ex-Old Crone bassist Dicky King lowering the tone behind his Rickenbacker next to powerhouse drummer Chris West. But where Movin' On felt expansive and progressive, Going Home feels tighter and warmer, with a greater sense of fun brought to the fore by riff-brandishing frontman Peter Holland. The stomping bounce of Hillbilly Moonshine and the boozy good times of Want Another Drink scream to be played loud and live, riffing as hard as Matt Pike would after accidentally locking himself in Pepper Keenan's garage.
Meanwhile the grunge-meets-blues approach of the title-track opener sounds like a message in a bottle lost at sea in anger and confusion; sitting neatly beside the heavy-hitting herky jerk of Up the Stakes which shows more than a hint of a QOTSA influence.
Standing out like an Easter Island Head and shoulders above the lot though is Change Your Mind, quite possibly the finest track the 'Wicked have set to vinyl yet. Kicking off with a riff that's lazy enough to remind you of Sunday morning bacon and eggs, yet ballsy and groovy enough to make you consider binning your Alice In Chains collection altogether, the song rides a tide of sorrowful 'what-ifs' beautifully. Holland manages to enter a new realm of human emotion that other grown men can only sit back and admire as his lyrical protagonist urges a second party to "change your mind, change your way, change your heart again... the only way" in desperate anguish. Somehow finding the perfect niche between Weedeater, ZZ Top and Soundgarden, this is as good as it gets with heavy rock.
If there's one gripe I have with Going Home, and I'm knit-picking really, it's the running order. The limitations of vinyl can at times restrict the flow of the music its meant to transport, and this is one such time where it feels like the side A/side B format dictates the record's rhythm. The title-track Going Home, for all its bluesy grit, feels too awkward to open a record and would make an all-round better closer. Meanwhile the gloriously open boogie of Hillbilly Moonshine, Want Another Drink or the back-handed grunge of Pour Me Another pack way more of a punch to pull listeners in at the front of the playlist rather than sitting behind the somewhat half-baked Go Outside to be discovered for themselves.
There's a warm sense of comfort around knowing that whenever you listen to this band, you'll feel better for it. Peter Holland has developed into a songwriter in the vein of Seasick Steve or BB King and is backed by a drummer and bassist who could anchor even the most punishing doom-sludge group from the Deep South. As Holland and his brother John close out the album with a versatile brass piece entitled Home, it does feel like you're pulling up on the drive after an awesome childhood holiday - exhilarated, but grounded in a firm conclusion. Looking for a boozy, sludgy ode to good times spent and drunk, that's got both power and finesse? Look no further - this is just the tonic. Now go pour me another one.