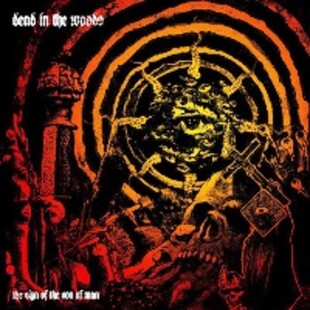 Dead In The Woods are, well... dead, but this is their lasting legacy.
A Nottingham band that reflected a lot of the city's hardcore and sludge heritage, Dead In The Woods have always however had this otherness about them. Suitably raging and uncomprimising, the off-beat delivery of the vocals always sets me in mind of more mathy bands like Knut. Their split with Diet Pills (who have also recently called it a day) a few years ago was a rumbling statement of intent and this LP seems to be those initial ideas expanded upon and developed.
Hints of electronics are on display and there's some interesting leads layered over the top. The endless and clattering drum patterns only add to the thick, gloopy production, which moves as one twisting, dark mass. Vocalist Jérémie roars his way through most tunes a man posessed, I can hear old grind and screamo influences thrown in here, that kind of pressured, low, forced shouting style can throw up glints of old bands like Haymaker and Benumb.
Where Dead In The Woods have grown just before their demise is in dynamics, there are sections on here which ease off the gas and its to their advantage, the sinewy and glacial meanderings of Beyond Tannhauser Gate echo with a melancholic sadness as well as restrained sorrow that explodes when they go back to the grinding, pulsing riffage. There's even some theremin magic on The Awakening which gives it, weirdly, an almost mystical stoner rock feel. You get the feeling the band have taken their time over this, poring over every detail in the studio. Known in some (small) circles as His Hero Is Hawkwind, DITW are perhaps Acid Mother's Temple fans at heart, which is no bad thing.
It's a shame they've decided to part ways, but you can find some of the members already active in new bands, which are already doing the business. Endless Grinning Skulls, Nadir and Nacht Und Nebel being three to check out right away. In the meantime, this is available for streaming here and will be coming out on LP here, both of which we'd advise looking into.