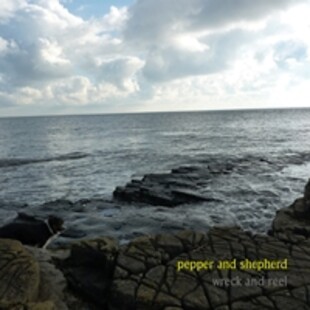 When reviewing folk, it's easy to get lost in comparison country.
Once you are in there, it takes a hell of a lot of pedal work to get the hell out. These comparisons can sit on your shoulders like the oft-imagined monkey on your back and can make what seems like a good idea, as in, 'This totally sounds like mid-era Dylan!' a sorry, short-sighted hack trick.
So, to Pepper and Shepherd, I will refuse to name other folk luminaries out of respect. Two guys, two guitars and some ukes thrown in there for good measure, what more do you need?
As well as flirting with pop structures for some of their material, for the most part, P+S are totally original. The songs manage that enviable trick of being both cheering and melancholic at the same time. Songs like Time evoke travelling blues standards, but with a modern twist (there's even a swear in there, naughty).
Their singer, Tony (Shepherd) has a soulful and warm voice that's suited to this frenetic and ambitious set of songs, going all the way from a low rumbling vibrato, like on Blackbriar Blues, to a full on wail on tracks like Isobel. You can imagine these songs being played in a sterotypical hazy summer field, the pastoral surroundings reflecting their beauty. I'd even suggest organic yoghurt companies would be keen on using these songs to advertise their rural (honest) ingredients, but that would be an insult to their artistic merit. P+S have created a welcoming, comforting sound here that never starts to drag through Wreck and Reel and its many turns.
The stark sound of All My Love would do well in a room full of people in big jumpers, sitting cross-legged by candlelight, which I think the pair would secretly enjoy, even given that condescending, stereotypical interpretation I just span. The heartfelt and mournful introspection means it lifts it above most other tracks, even high-pitched painful shrieks aside.
This is one to put aside for days when distortion is too much for that delicate head of yours and you need something to reflect your battered head. Life is hard, so albums like this exist to make it seem a bit easier.