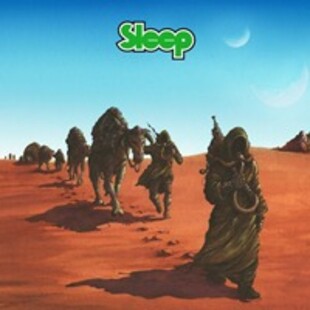 As many fans of Sleep caught wind of earlier in 2012, Southern Lord announced that they had planned a reissue of Sleep's monolithic masterpiece, Dopesmoker.
The tale of Dopesmoker is one of legends, billed as the follow-up to Sleep's seminal, 'Holy Mountain' this second offering came after the band created such hype with said album that Elektra and London Records, homes to The Rolling Stones and The Doors, wanted to take Sleep on due to their lack of heavier, metal-type bands and release what they expected to be the second Holy Mountain.
The band had been working on a new release following a European tour with Hawkwind and Cathedral, during this tour the band rehearsed their newest material at sound-checks and in hotel rooms, this material was mainly a long, 15 minute jam that would eventually be extended.
Whilst currently signed to Earache in 1995, the band decided to wait to record their work-in-progress until 1996 when the legal battles with Earache had died down and they could settle into a new deal with London Records.
With London Records sending a very generous advance to Matt Pike, Al Cisneros and Chris Hakius, the band knew what they were planning to send back and it wasn't going to be what anyone, not even the label expected.
Having blown most of their generous advance on Matamp Amplifiers, previous debts and a mass of high-grade marijuana, the band then ventured into the Record 2 studio in Comptche and recorded their epic, pot-hazed vision onto 3, 22-minute, reel to reel tapes, four versions of the song were eventually recorded in a plume of acrid, yellow ganja smoke.
When they'd completed their work, they duly sent it to London records who were slightly perplexed at the hour-long song that the band had created for release, they refused to release it in its current format and created a new edit via David Sardy, Sleep obliged and a slightly shorter version of the same song appeared. The album was then shelved and Sleep disbanded following bitter arguments between label and band members.
The rumours of the album circulated amongst fans who were left in the dark as far as a new album and what had actually happened to Sleep themselves.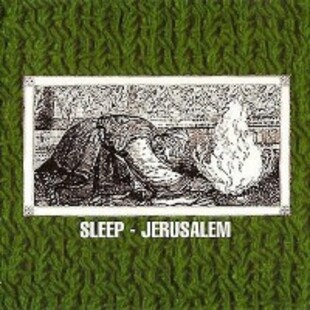 Many years later in 1999, Rise Above records decided to release Dopesmoker, a slightly shorter, 52 minute version entitled Jerusalem, this was where the original version was split into 6 parts each named, 'Jerusalem', the cover depicted an old-style religious picture of an old man grasping for his bong.
Then followed with another version, named 'Dopesmoker' on Tee Pee records in April 2003, This was an unuathourized version that clocked up 63 minutes and was sold via Vinyl and CD formats with artwork which showed the 'Weedian' proceeding to 'Nazareth' on his terrifying horse.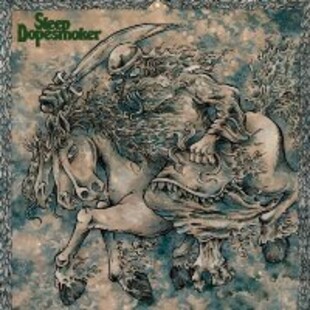 This version would include 'Sonic Titan' added by Tee Pee. This was not only a badass riff but a great treat for listeners after waiting for so long.
Original Vinyl copies of Dopesmoker on Tee Pee records now command serious dollar on eBay and through independent record dealers.
As time went by and the legend of Dopesmoker continued to gather in more smoked out practice rooms, bedrooms and cars across the world, Southern Lord announced that they will finally do what should or should not have been done, release Dopesmoker the way it supposedly should have been back in 1996 with Arik Roper artwork showing a different, more fitting approach to the 'Weedian' amongst a middle eastern influence with usual bat-shit-thought-provoking imagery which in this case, compliments the newer mix.
Possibly seen as a massive cash-in on the Dopesmoker legend, Southern Lord have opted for as many vinyl releases as possible, you can have a picture-disc, gate-gatefold issue on heavy, coloured vinyl, a deluxe edition CD along with posters, hoodies and tee's.
Yes to all of the above...
The new version which has been blasting around in my head on a bleak Saturday reminds me of a time when I would sit in my front room with Alexando Jodorowsky's 'The Holy Mountain' on mute and let 'Jerusalem' annihilate my senses, highly recommended.
The mastering work on the latest offering has a lot more clarity and allows the listener a lot more scope of the album they have come to know and love.
Describing every part to everyone interested is what makes Dopesmoker what it should be. A complete mind-fuck when trying to remember pieces, it has been said by Sleep themselves that they struggled to remember how each part goes. A chart of how the band would practise the entire song is included with the newer version, it is advised to burn one then read-whilst-listening it if you want to stand any chance of 'getting' it.
As the album storms along like a sonic orgy of dense waves of thick Matamp balls and the relentless drums which ooze more power than a train with swine-flu, it could easily hypnotise you if you were stood there.
The version here does all of what you expect it to do, makes you instantly respect the Weedian and proceed directly to Nazareth, drop out of life with bong in hand and follow the smoke to the riff-filled land.
Considered by many as 'The' stoner rock album, this new version gives more depth and is just unbelievably bad-ass.
Brad Boatright by From Ashes Rise has done the finest job of the all other original issues heard over the years, remastered with the same intentions as Sleep had many years ago or so we are led to believe.
The new version is going to be a welcome addition to any fan of Sleep, it starts slightly differently to the previous but also includes slight variations from before with Pike ripping through solos that have slight differences.
The rest of the band in the reissue sound clearer with better depth and the same obnoxious-sanity that has added to the overall legend.
Bonus-wise on the new reissue is a live version of 'Holy Mountain' which unfortunately lacks in sound quality and could have been omitted to keep a bit more of the albums Integrity, but as doctors say, any Sleep is good Sleep and funnily enough, there aren't many people that would disagree, one for the completest in you.
I think its pretty safe to say that if you have got this far in reading this review, you've probably got this on pre-order and are awaiting more money to throw at Southern Lord in exchange for more Sleep merchandise.
To wrap up, Its Sleep, Dopesmoker like you haven't experienced before.