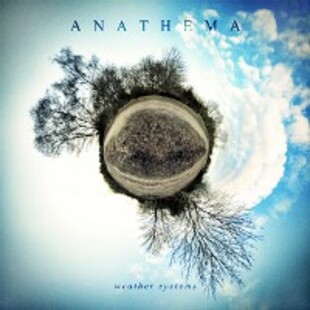 It's spring and prog is in the air. At the time of writing, the 9hz forum are quietly humming with discussions of all things progressive, and with some rather fortuitous timing, the new Anathema record has arrived for review.
The bands 9th album since their inception in 1990, 'Weather Systems' follows the 2010 release 'We're Here Because We're Here' and continues the bands path away from their doom metal roots and even from their mid period experimentalism. Whereas 'A Natural Disaster' could veer from the almost entirely electronic based 'Closer' to the bombastic (and admittedly rather cringeworthy) 'Pulled Under at 2000 Metres a Second', this is a more consistent album in terms of style and feel and is all the better for it.
The album also features fairly heavy use of female vocals from Lee Douglas, most often used to counterpoint and layer impressively with those of Daniel and Vincent Cavanagh but also as lead vocals in a couple of sections and throughout standout track 'Lightning Song'. While the album occasionally drops into a formulaic pattern of fast fingerpicked acoustic opening followed with a steadily increasing middle section before breaking into an epic ending, each track has enough of it's own character and is strong enough to shrug off any criticisms of laziness.
The first 2 tracks come as a pair under the heading of 'Untouchable' with very similar phrasing and vocal melodies although Part 2 is much slower and reflective. Apart from the aforementioned 'Lightning Song', the albums other standout track is 'The Storm Before the Calm', breaking from the overall feel of the album to that point with a dissonant guitar line, and stronger electronic influences. The albums longest track, it descends into heavily distorted and effected noise before coming back in for an emotional crescendo. 'The Beginning and the End' is a rare dip in quality for the album, while certainly not bad, it doesn't differentiate enough from previous tracks to avoid providing a stumbling block for the last half of the album. On then to the final 2 tracks, the piano driven 'The Lost Child' and 'Internal Landscapes', the latter bookended by sections of ambient noises and a sampled interview of a man quite beatifully describing a near death experience before fading out the album in a wash of burbling synths and E-bowed guitar.
The best contemporary prog influenced album I can think of is 'El Cielo' by Dredg, released in 2002 and which I will finally stop banging on about one day. 'Weather Systems' is a different beast, less claustrophobic, less obscure and less afraid to step over the line between earnest and overblown but infinitely more uplifiting. The songs are excellent and the album as a whole has been percectly timed to marry perfectly with the upcoming summer weather. Some albums suit certain situations and I can perfectly imagine sitting in some quiet field in a couple of months time with this on headphones and feeling everything is fine with the world. Vocalist/guitarist Daniel Cavanagh describes the best moments of this album and those of 'We're Here...' to be the bands best material. And I honestly can't argue.