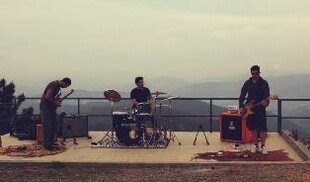 Now the Irmãos Brothers from Castelo de Paiva, Portugal may not be a familiar name to many, indeed I'd never heard of them previous to them getting in touch, but you'll be glad you've stumbled across this interview when you see this video.
Recorded on top of a mountain, it went on to form the group's latest album, simply using the audio from the cameras, but such a way to record impressed me so much I had to investigate further. I fired over a salvo of questions to Andre, the guitarist from the band to find out more, not only about the album and where their influences came from, but the scene in Portugal too.
When did Irmãos Brothers form and what was the aim?
Well, first of all Irmãos Brothers is not a "band", I mean we don't rehearse or have any kind of planned band activity. It's a full centered live configuration combo aiming to explore improvised musical and soundcapes.
It's not necessarily fully musical, in a common sense, building but more of a way to express our collective introspections and interferences by the use of musical instruments. It started some years ago in the city of Coimbra when me (guitar) and my brother (drums) performed a trippy jam under the name of Irmãos Brothers ("Irmãos" means "brothers" in English and the name itself works as mock and an absurd statement towards the power and importance of having a good name). After that we have performed other times under the same name and concept and added two more voyagers to the collective, Rui Martelo on bass and Cláudio Lopes on spoken word/ poetry.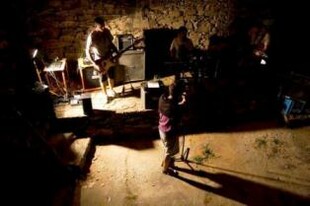 What are your main influences?
We are all from Castelo de Paiva, a tiny city in the North of Portugal where not much really happens and our gigs are mainly part of an underground small movement shared by some free minded folks that like alternative art forms and so it works as a catharsis towards apathy and routine. We live in a picture-perfect landscape with breathtaking rivers and mountains and that natural energy is also part of what we create, so we tend to perform in old houses in the heart of the forest, at the top of wild mountains or even river-side. It transcends music, it's not a show on a venue where you stare at the band and buy a ticket, and it's more like a collective trance and a way to connect different people through emotional frequencies and sound drawings.
The four of us love music and we are willing to try any form of manifesting it. I don't know man, we are quite into post rock, stoner, free jazz, noise, experimental stuff, mathcore, bossa nova, you name it. There are no real stylistic barriers and we're not trying to achieve perfection or worry on BPM-based execution, so there's no fear of experimenting on anything that we feel in the moment.
How is the scene for your kind of music in Portugal?
We're going through a really nice new wave of music. I mean, people are fed up with the commercial plastic crap and senseless loudness. The late 90s and 00s were wasted by greedy record labels that developed a reliable product – the song format – and have turned the common sense into a sterile recipient for empty entertainment, not real music.
I think, as a global phenomenon, that people have felt it and are now searching for more meaningful and true stuff that can make them feel something really special, in a reverse circle returning to the 70s spirit. And it affects all styles – folk, black metal, electronica, pop – as musicians are carrying more on the substance, instead of the mask. In the same direction, people are returning to have fun on the streets and small clubs – instead of being locked on industrial discos – and prefer to be surprised by new stuff instead of the false comfort of the standard mass contents. (Ed- I think he means pop music and the usual)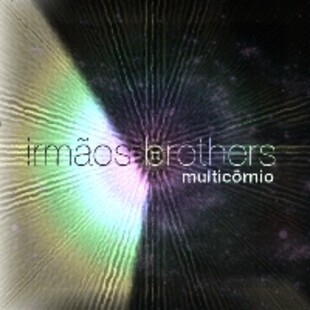 Is relying on improvisation a more enjoyable experience than being in a conventional band?
It's different… I mean, we all have our 'normal' projects and have been in bands since kids. I guess both experiences are challenging and enjoyable and you sure grow as an artist if you let yourself experiment different challenges. I believe that it's quite healthy for your soul and creative side to let yourself go and improvise, feeling no restrictions, but it's also important to develop ideas and spend some time working hard on composition.
Why did you record your album live, and more interestingly, on top of a mountain?
It wasn't a planned thing, you know? We'd decided to gather some friends on the top of that mountain and simply play. We were supposed to record the all thing with some mics and equipment but we weren't able to do it. So we filmed it and captured the sound with the camera. We liked the performance and felt connected during the entire trip so it's natural for us that, if we want to be free and do it as true and raw as possible, it makes sense. It was a good thing, after all, to get the sound un-produced and un-edited, just like it was in reality.
So, why not make it an album? It's music isn't it? And that's all that should count. I value this more than spending a year in an expensive studio recording songs that we don't really like. We did it because we liked the performance and we are sharing the true core soul of what happened, with no fancy clothes or accessories. It's as pure as it gets. The downside was that only the first half of the show was recorded because the camera ran out of battery - lol - and the missing part was even better, in my opinion.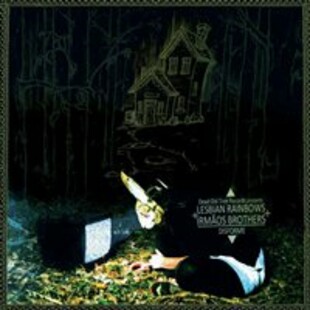 What are Irmãos Brothers' plans for the future?
We intend to release this live album 'Multicörnio', hopefully on vinyl, and then play some more shows and make some splits with other artists we like. Besides the live improvisation stuff we also want to compose and record some tracks, in fact, we already recorded one that is now coming out on a 7" vinyl through Dead Old Tree Records. It's a split release with the band Lesbian Rainbows.
Do you expect you will tour in the coming year or so?
I don't know man, we all have our jobs and responsibilities and it's hard to give up on real life to chase this surreal dream. We want to play – of course - and, if possible, do it in other countries but it'd be hard to do a 'real' tour. Honestly, I guess we enjoy it because it's random and rare, it'd be hard to improvise and go through this intense road on a scheduled basis.
Are there any bands from Portugal you would advise UK readers to seek out?
There are lots of quite interesting acts, on the most various musical styles, here. First of all, as I said previously we live in a small city but there are lots of musicians and bands around, so I'll start with some local acts that are really good and have some exposure overseas.
We have Lesbian Rainbows, an insane power duo crossing crazy sludge bass riffs with rock and roll and jazzy parts, (aura), a more ambient/ post rock/ cinematic project signed with cult label Valse Sinistre.
There's also Colosso a band that is having killer reviews on the global death metal scene, with their debut album. We have 1 Is The Lonely Number, a beautiful minimal/ ambient project and there's also TV Paranoia, a surreal pop-rock outfit.
In Portugal you have to check Uxu Kalhus, a fusion combo mixing folk with jazz and rock; Tiago Guillul an evangelic priest turned indie rock star; Fausto, a classic protest singer and composer that opposed the dictatorship in the old days; Unzen Pilot a very trippy psychedelic combo; Gustavo Costa, a hell of a drummer/ percussionist always connected with unusual music and artists; António Variações, one of the most refreshing and creative songwriters in our history; Lula Pena, one of the most beautiful and enchanting voices you can listen to, she's like a hidden jewel on the word music/ fusion circuit; HHY & The Macumbas who are a ritualistic mindfuck and Mão Morta, a classic Portuguese band truly pioneer on mixing rock with more bizarre and more neurotic states.
There's also Crystalline Darkness, for people into depressive, suicidal black metal, these guys can be quite intense and insane; Isabel Silvestre, the true spirit of a hard isolated rural forgotten Portugal; Carlos Bica, one of our finest free-jazz explorers and Buraka Som Sistema who recycle traditional African beats with powerful electronics.
I'd go for hours with suggestions but it has to stop, right?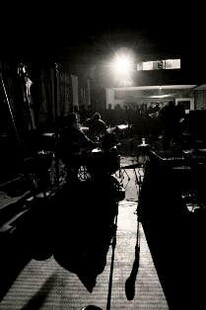 Do Irmãos Brothers songs have any particular meaning or message?
Man, I have no idea. I tend to empty my mind when I am playing, it works like that for me, I am only re-acting to what my band mates "tell me" and to the atmosphere itself but I guess any one will feel it differently and find his own message. That's part of the magic, I guess.
What's the strangest gig you've ever played?
We haven't played that much, our gigs are rare, also as the consequence of the conceptual logic of it. I don't say it was strange but it sure was powerful and emotional to record this album on the top of a mountain as it was almost a ritualistic trance feeling to have played in an old forest house, right on wild river side.