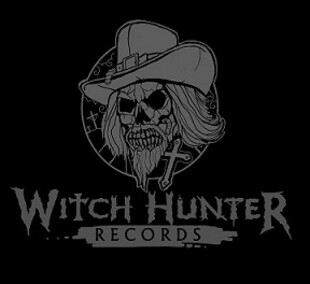 Witch Hunter Records have been putting out fantastic music for a little while now, releasing intricately made CD packages mixed with intriguing and welcoming pay what you want downloads. Showcasing a pleasing array of genres of underground rock and metal, not genre bound, Witch Hunter are obviously in it for the love and the benefits are there for us all.
We contacted Chris Kaye, the man behind the label, to hear more.
You seem to have a very varied roster of bands - what's the label ethos?
"I suppose it's mainly sludge, stoner, doom and hardcore, you know the darker end of the spectrum, as that's what I predominantly listen to these days, but I'm still partial to emo and classic rock. I don't want to get bogged down and limit myself by sticking to one genre though, as there's no fun in that, and hopefully people who follow the label would listen to something they'd not normally be subjected to."
Why did you start the label? Was there something you felt deserved to be released which launched it, or did a grander plan exist?
"No grand plan really, I'd given up being in bands and putting gigs for about 3 years, but still followed it all, and a really well written blog about how Trippy Wicked self-released their own album, and some articles by Trent Reznor about digital distribution alongside good looking physical products got me hooked.
So I compiled all the stuff we'd recorded in Bumsnogger, along with some really rough unreleased stuff recorded on a minidisc for bonus tracks, and put it all together for a free download on Bandcamp. Which then got downloaded over 1000 times, which was weird as we only sold a few hundred CDs and records in the 4 years we were together."
I've always known you playing in bands (Bumsnogger, Cape Canaveral), do you feel Witch Hunter provides you with a chance to continue to be creative and productive within the underground music scene?
"Since I hung up the guitar and the promoter's hat, I still bought records and went to gigs, but through the label I've had a chance to get involved and feel part of something again, and gotten to know loads of cool people in the scene, other labels, bands, zine writers, artists and printers etc."
How do you decide who to work with, and what to put out?
"Friend's bands. Friends of friend's bands. It's an incestuous scene. I've got to like a band musically of course, but bands that work hard and get people involved are preferred, through gigging, blogging and being active on the social media networks. I tend to work with bands that are quite new, as it's exciting watching them grow and people get into it."
What relationship do you have with the bands? Have you met with them all before releasing their music? What do you set out in terms of, for want of a (much) looser term, contracts, if any?
"Email is the primary method of communication, as it's too difficult to try and arrange to meet bands from all over the country. I've met all of them since stuff has been released through gigs and things, and they're all cool dudes. Nothing is really set out, apart from bands go out and gig / push the release, and I promote them and beg people for reviews. It's not an exact science though."
You seem to focus on short runs lovingly made. Is that a fair assessment?
"You offer something good looking and limited, it's then more of an incentive to get hold of a copy, as it has more value attached to it then. Besides, nobody can really afford to press the minimum 500 or 1000 copies of a 7", and you run the risk of being surrounded by boxes. In an ideal world, if you could get short runs of say 100 or 150 7"s pressed for a reasonable cost, then then that would be my preferred format, but that's not possible, so I focus on short runs of good looking CDs. I want do more tapes too, as there are lots of good packaging options to make things look special."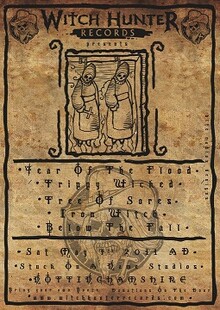 You put many releases on Bandcamp available on a pay what you want principle. How do the bands feel about this? How is it going? Do you get a large percentage of free downloads? What's the most anyone has paid?
"I think most of the bands buy into the ethos that the more people listening to your band is of greater importance than trying to get money out of these people, hence the free downloads, with the option of pay-what-you-will. It seems to work well, as most downloads hit 4 figures, and about 5 - 10% of people will pay something, which we are all eternally grateful for. I think someone paid £10.00 for an Iron Witch download once, which is loads more than the CD cost. £6.66 was the best donation received yet though."
Do you get hundreds of bands sending you their material?
"About 4 or 5 a day I reckon. The new messaging system on Facebook has opened the floodgates too. Unfortunately, I think some of these bands assume I'm some kind of rich mogul who will open all sorts of doors for them. When in reality, I'm one dude sat at a kitchen table, surrounded by dirty dishes, washing, kid's toys and CDs."
With that in mind, do you listen to it all? How do you decide what to go with?
"I have a quick glance at the majority, maybe a listen if someone has done their homework or added a personal touch, but on the whole I already know what I've got planned and what I'm into, which may sound snobbish, but I haven't got time or the energy to listen to all of the submissions.
I tend to find most bands on my travels through Facebook, Twitter and Tumblr anyway, so if they're already gigging and pushing themselves, the chances are I've already heard them before and already formed an opinion."
You've released New Zealander's Beastwars album in Europe - how did that come about?
"I knew of the band and digged their music, as they were always top of the Bandcamp charts, and Nato from the band messaged me saying he was into the label and the music we'd put out, and was looking someone to distro their album in the UK & Europe, as it costs a fortune to ship worldwide from New Zealand. So we figured it out, and now we stock it and loads of people seem to be into it, which is cool as they're a great band and it gets them exposure over here, and hopefully gets the label name out and about too."
Have you got any releases coming up you can tell us about?
"The new Tree Of Sores CD is next up, as soon as we figure out some printing issues. The original plan was to have a 24" x 24" double-sided poster, folded into a 12" vinyl sleeve, which has some fantastic artwork by Black Uroborus, but it's not working out, so we're going for a smaller size, but will still look awesome. Musically, it's going be 1 track, 28 minutes long, which features around 6 or 7 riffs or movements. So, the traditional verse/chorus/verse format has been well and truly thrown out the window, but it works really well with this type of music as it's epic, dark and brooding, and full of tension and dynamics.
We're also releasing a CD version of the Knife Crimes demo, which has just been released on tape by Church Of Fuck, and it's 3 tracks of dark and down-tempo hardcore."
What's the future for Witch Hunter? Have you anything in mind you want to be involved with? Do you want to grow or happy with the current output/personal workload?
"More of the same I hope, as people seem to be into the things I'm releasing and the ethos of the label. I'd love to grow, maybe release more stuff on vinyl, but unfortunately I've not got the time or the money to do that, as family and work come first, and they will always be my priority."