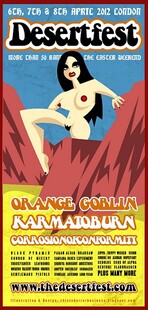 Desertfest is nearly upon us. Over 60 band sets, playing across three venues in London over Easter weekend. Karma to Burn, Black Pyramid, Orange Goblin, Black Cobra, Truckfighters, Rotor, Corrosion of Conformity, Church of Misery, Gentlemans Pistols and many many more - bands from Europe, North America and beyond mixing with the cream of British stoner rock and doom underground. It's a magnificent line up of bewildering scope.
The festival is the brainchild of Desertscene, who have had their finger in the UK stoner rock pie for a while now - webzines, London gig and UK tour promotion, bands (check out Steak). We contacted Reece from Desertscene for a festival preview interview...
Desertscene has been around for a bit now - why did you want to create this festival? Why now? Why the step up to a festival over promoting gigs?
"The idea was always to do something bigger than we had been and it has always felt like the scene in the UK needed a shot in the arm. By just promoting london shows and small UK tours as we had been doing wasn't giving the bands enough exposure. With the festival, not only do the bigger bands get exposure the UK guys to play to an international audience."
What was the inspiration? Roadburn?
"Well of course Roadburn has set the benchmark for underground festivals but it was never about copying what they do. I love SXSW and even the atmosphere at Camden Crawl, even though the music sucks! To turn Camden into a stoner rock/doom haven for the weekend really appealed to me. Give people a wrist band and let them wander. I really want to expand on that idea over the coming years."
Was the timing all down to catch bands over in northern Europe for Roadburn?
"Roadburn was in mind when arranging the date, but I also run a festival company and our busy time is from May to September so for me to take on this undertaking before that all kicks off was important. As it worked out, we didn't end up with as many Roadburn bands as many people may have thought. For various reasons we brought bands over off our own back. I am happy with that also, I didn't want Desertfest to be the poor relation to Roadburn. I think being smaller, we are more focused on the genres we specialise in."
Did you always mean to put it across several venues? Was booking the venues concurrently difficult?
"We chose venues we already had a relationship with. The Underworld was very important to us and we use The Purple Turtle quite a lot for one off gigs and club nights. There was talk of one big venue to house the whole thing but as I have said before, a festival that brings many venues together is the way we wanted to go. I really believe that's what makes a festival really interesting is making the hard choices between who to see and what stage your going to next. It's a real talking point between the ticket buyers."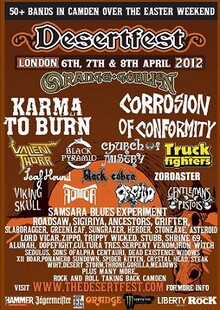 Who are you looking forward to in particular? How are you going to choose where to be during the festival?
"I know I will be flat out during the festival. We have a great team in place looking after bands and managing the stages but theres no doubt things will get hectic so I'm trying not to get too excited about seeing the bands. Having said that, there are bands I will make sure I get to see like Goblin, Truckfighters and Orchid, so during this time the phone goes off!"
How did you choose who you wanted to be on? Did you make a wish list and see what you could get? Any surprises on who you managed to get? Anyone you wish you could of got but wasn't able to?
"Orange Goblin was the first on the list. Ben Ward has been very supportive of what we had done so far and luck would have it that the timing was perfect for their album release. You need a strong name to then use with other agents. Once it's endorsed by a band like Goblin then people take the idea a little more seriously. From there we wanted to build a rocking line up for their day and then have a more doomy alternative at the purple turtle to contrast. Gradually we started putting some structure to the line up. We lost out on a quite a few bands. We had Graveyard pencilled for quite a while before they decided to do their own headline tour, plus loads more that fell through for one reason or another. The flip side to that we had some great results, like a reformed Black Pyramid and Corrosion along with Black Cobra and Zoroaster."
When you started thinking about this, did you have the vision of it as it is now, or was it completely different?
"From our knowledge of the UK scene and the promoting we have done, the size of it is pretty much as expected. The surprise has been the global recognition it has received. Ticket buyers from all over the world coming to Camden because we put on this underground festival we decided to put on. That still amazes me."
How has organising it gone? Has it been stressful? I don't know how you've coped with such a magnificently big project, even so far - I've been on the verge of sickness with stress putting 3 band gigs on in Sheffield before! How about which bands on which stages and when - was making the running order difficult? Any general plan for running order and bands who share stages - eg similar sounds?
"Because of the festival business I already run, I'm used to stress! It's been tough at times but we have little team that are totally passionate so we have spread to work load pretty well."
Will this become an annual event?
"This is just the first of many for sure. We are making plans to make it a bigger festival next year. This year is now sold out so we couldn't of asked for more in the first year."
How are ticket sales going?
"Sold Out."
I'm not in London, so can't sense it in person, but there does seem to be a real buzz about the festival on the internet and from people I know further south, and you've got some good backing from magazines. Have you sensed this in the build up?
"Yeah, its growing all of the time. Metal Hammer was behind us from the start which has been great support. There really does seem genuine excitement for the festival from everyone I speak to."
What's left for you to do now, with under a week to go?
"Now we start to shit it. With so many bands coming in to London, it makes it a logistical nightmare. This week is all about getting as organised as we possibly can. We know things are going to go wrong at some points but we just have to be ready to roll with it. As long as we feel we have done the best job we can then I'm happy."