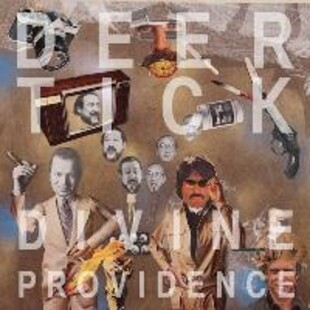 Well, I'll put my hands up, I know nothing about this band; they could be keen new upstarts or seasoned veterans, ex members of anyone from Blue Cheer to Agoraphobic Nosebleed for all I know.
So, with an open mind and open ears I gave Deer Tick a first whirl…
Divine Providence showcases a band who tread the well worn path of boozy bar-room rock, basing their sound around the early seventies Rolling Stones/ Faces blueprint favoured by whisky drinking, Marlboro puffing revivalists ever since. The only question is whether Deer Tick are approaching the Keef/ Mick/ Ron template from the gutter-casualty perspective of the likes of Dogs D'Amour and early Black Crowes or the more earnest blue collar pseudo-Springsteenism of The Hold Steady. Elements of both vie for attention throughout at the expense of a strong identity of their own.
All the expected cliches are present and correct with tunes of drinking, smoking and having a broken heart in the gutter. Maybe they're smartly dressed bank clerks in real life but in the absence of band photos I see Jack Daniel's T-shirts, old Levi's and tattoos of naked women in my mind's eye.
The tunes are catchy enough to stick in the memory straight off but I can't help thinking it all seems a bit forced; at times, such as Let's All Go To The Bar, it's as though they're trying to be slightly shambolic to add authenticity to the booze-hound image they're so keen to portray.
The singer's voice has an early Alice Cooper meets a more mainstream Tom Waits gravelly tone which suits the music perfectly and some tunes such as opener The Bump add a bit of glam stomp meets off-kilter, honky-tonk (wonky tonk?) boogie but to be honest it's all been done before many times, much better.
I'm sure these tunes would provide an apt soundtrack to a night on the beer in some scummy shithole bar in the good ol' U.S of States (no chance in post-smoking ban UK; these sort of bands couldn't possibly play without a smouldering tab stuck in their headstocks). On record I'm not so sure.
If you fancy a bit of mid 70s straight-up rawk tourism in familiar surroundings, you'll find plenty to enjoy here. Personally, I'm happy to bypass the avenue of shattered dreams, empty bottles, cigarette ends and late night lovin' (baby) on my journey.