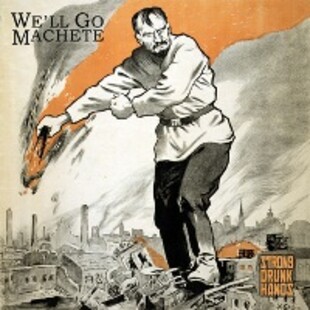 This is some pretty straight-up post-hardcore stuff, not complex but still impressive.
We'll Go Machete, named after this film sample: "We are jungle fever, beri-beri, Maus Maus ravenous for each other after which we'll go machete and bar-bee-cue us some missionaries!" -Lester Bangs, All My Friends Are Hermits, are a four-piece from Texas.
Their sound is largely influenced by Fugazi, Drive Like Jehu and bands of that ilk, you know the kind, confident delivery of a tension-filled sound, not too distorted but with enough spikes to seem threatening.
The vocals hang over the determined basslines and ashen-faced riffing on display with a desperation that's engaging. Fans of bands like ...And You Will Know Us By The Trail Of Dead will appreciate the subtle guitar playing, it's all very angular and seething underneath a pretty conventional structure, but equally, fans of post-hardcore will find it diverting enough to get excited about.
Songs like 'Number 13' have an anthemic feel to them, the vocals again, are just so impassioned it's pretty hard not to be taken on a ride.
To give you an idea of their contemporaries, WGM have shared stages with The Melvins, Future Of The Left and the Heroin Chics, so they are in good company. Live this must take on a more regimented feel, each crack of the drum hitting you in the chest, as it stands, this is a decent record, but it's up to you whether you find this sort of thing interesting enough, after a while it becomes slightly repetitive.