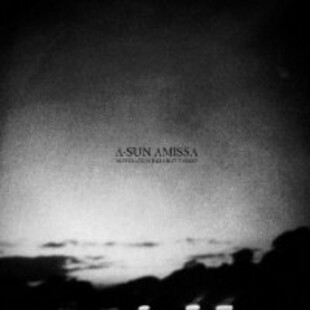 This is more droning and minimalist action from Gizeh records. Not only is it stark, it's also slightly disturbing too.
Another act featuring Rich from the record label and Glissando, but also Angela Chan (also of Glissando) and Owen Pegg, it is based on barely-there scrapings that bring to mind acts like Rachels or Stars Of The Lid.
The barely-touched guitar strings chime against quiet feedback and mournful strings to create an empty-sounding melancholia which is as intrigueing as it is frustrating.
A wisp of an idea comes in and is instantly spirited away, like the ghosts of songs paying fleeting visits. It reminds me of a Tribes of Neurot experiment released with the 'A Sun That Never Sets' Neurosis DVD wherein they recorded a song onto tape, then onto another one, then another one, in turn until all that was left was a faint impression of a song, almost ending up like the outline of a bell's ring.
Their past release 'Beneath the Heavy Tides' was said to sound industrial, with this I feel they have moved on to the pastoral, of bleak and empty fields and the ruins of Autumn.
They are playing the Brudenell Social Club in Leeds soon with the excellent Barn Owl soon, which should be a night to witness, a room full of people afraid to breathe I suspect, for fear of being louder than the performance. Beautiful if you have the patience it deserves.