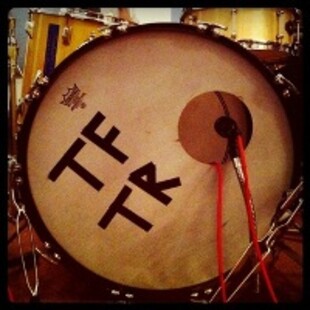 This seems to be the year of the self-titled EP, here is Birmingham's four-piece, The Fall, The Rise, with their own brand of alt rock.
Having been together more than five years and not to be confused with The Fall or Rise and Fall, TFTR have carved out their own niche, a kind of tension-filled alt-rock beast that's got hints of quality indie rock flowing right through it. Think the likes of Far or Jimmy Eat World, but with a less American way of playing and with a sense of melancholy to the lyrics. I can imagine these guys are kids of the 90s as the dynamics and songwriting smacks of mid-nineties indie like Mansun or bands of a similar ilk.
That's not to say the sound is dated, more paying a reverence to their influences, there's some post-hardcore ideas in there too, reminding me of former Coverntry/Brum types Knives, the stop-start nature of opening gambit 'The Hollow Sound of Girlfriends Clapping' confirming this as it ploughs on. The band's vocalist has a voice that suits the tone, strong, desperate-sounding and clear without descending into full-on screams or spoken sections.
There's more bubbling under the surface than you realise on repeated listens, the bass that underpins the songs is subtle, but runs its own course under the framework.
If you like a bit of intelligence and conviction to go with your rock music, seek out this band pronto.