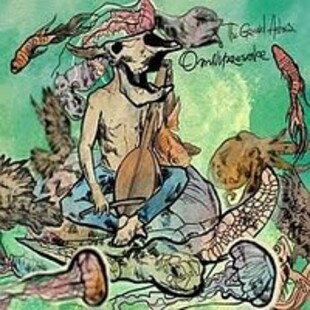 In news that's sure to please the vast swarms of Russian-based stoner-punk fans across the globe, local scene mainstays The Grand Astoria are back once again with a crusty jukebox full of tunes to delight and to intrigue. The foursome aim for a proggier, more psychedelic delivery to this, their third record 'Omnipresence', but continue to provide a more than healthy supply to the demand for both riffs that stamp harder than Royal Mail and lyrics drawled from desert-scene throats.
Always including great combinations of neatly varied instrumentation, TGA add carnival organs, synthesizer dynamics and harmonica to their established brand of swaggering guitar rock to show they've grown with age. 'The Song of Hope' bristles with an almost Arcade-Fire-like energy, while frontman Kamille Sharapodinov croons over the gaps with his dry, Nebula-reminiscent vocals, while the title track displays an almost completely electronic structure. 'Omniabsence' takes us down a darker path, with gentle drum rolls and acid-rock distortion burning a hole in the side of a wandering synthesized rhythm; guitar gently picking over the track like a breeze over a graveyard in the dusk.
Yet it's not all arty-farty business, with 'Rat Race In Moscow' rocking a riff as hard as Fu Manchu swinging around on a carousel surrounded by empty bongs, while opener 'Doomsday Party' lays some serious rapid-fire fuzz over steamroller drumming. It's clear the band want the best of both worlds on this record, and it may even prove a turning point in terms of the band's overall direction away from the boogie-laden stoner rock of their earlier albums.
Album cornerstone 'Something Wicked This Way Comes' encapsulates all of these sentiments within its epically grandiose 12-minute gauntlet of tightly-woven groove. Kicking off with a very British-sounding hard rock riff and Kamille's chorusing retort of "Well, Well, Well!", before lurching into extended tunnels of vintage peace-rock and arriving at the station of Cool Rhythms, this is what they have striven to perfect their whole career. And as the bell tolls its way out of this hypnotic malaise, you have to admit it's certainly an excitingly modern and innovative take on a subtle blend of the sounds of yesteryear.