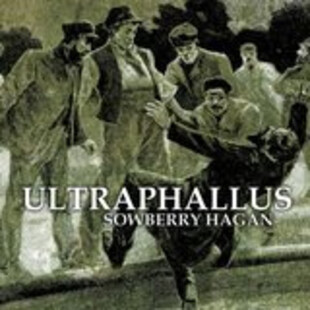 I caught this band recently at the 1in12 club in Bradford, the sound was muddy and the atmosphere great, but Belgium's Ultraphallus sound about the same on record.
Chaotic and confusing, Sowberry Hagan is an album full of feedback worship and effects thus far unheard of.
Lazy comparisons have been made to Oxbow (Eugene Robinson appears on the track The Red Print) but Ultraphallus (even writing that name is strange) are much more crawling and unnerving than the noire of Eugene's group.
Riot Season have again picked a band that defy categorisation, grinding away one moment, sounding like a room of broken dot matrix printers the next, this is a dizzying release.
The vocals are transmogrified away from anything human, steeped in what one imagines is a bank of cheap pedals designed to rip away any form of concise understanding. The guitars are undergoing some sort of drill or power tool torture, and it sounds great.
Somewhat of a mission to get to the end, such is the range of aural pummelling going on, Sowberry Hagan will find a home with the sadistic, but cannot be lumped in with noise or anything so mechanical, Ultraphallus seem to be a howling, distended organic life form demanding attention.
Careful now.