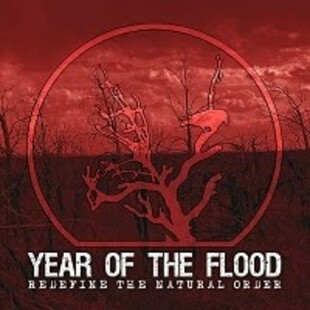 Right then, this is more fast-paced and frenetic than their last one. For those not keeping up (and why not?) Year Of The Flood are a Nottingham band made up of the remnants of some of the city's great bands but you should treat them as a wholly-new entity from now on.
As previously stated in review, they have an obvious Cult Of Luna reference point, but this is food-processor'd out of the equation when combined with their penchant for the beat named 'd'.
Paced and frantic, this release is another from the excellent Witch Hunter Records who are building up an even more varied roster as we speak, with Year Of The Flood one of their most active and exciting bands.
The vocals are spat out in a gravelly monotone, but this finds a comfortable home among the constantly shifting riffs, particularly in the breakneck-speed 'Blysspluss'.
'Gripless' comes across as a wall of noise descending from above, the post-apocalyptic themes (I presume) conjure up latter-day Napalm Death-style intensity, but with a clearly punk undertone, really intense stuff, I imagine this to be uncomfortably confrontational and dangerous and up close in a live setting.
Final track 'Psychodrama' starts off all calm, picked notes rising out of a thunderstorm sample, all very broody, before exploding into a euphoric mid-paced grower, all build-up, before fading away to some anguished vocals, haunting.
Frankly, you need to look into this band, whether on record or live, they will not disappoint.