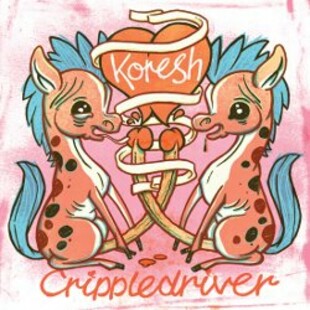 Throughout the course of history there have been many revered debut albums – 'Led Zeppelin I', 'Are You Experienced', 'Kill 'Em All', 'Marquee Moon', 'Appetite for Destruction', and many others; all bringing exciting new sounds to the world's eager ears and spawning quadrabrazillions of other groups inspired to replicate one riff, one vocal harmony, one bass groove or even an entire band image towards their own mini quests for glory.
'Crippledriver' is not one of those albums. It is a disgusting, fragmented, oozing cess-pool of deafening, belching, ugly thunder. It's so horrific that after one and half songs and three sentences into writing this review, my girlfriend ordered me to "turn off that fucking mess!" - true story! It is to music what the army is to society – 99.9999999999% need not apply.
Powered merrily throughout by the village-idiot bombast of James "Morrell" Morrell and the face-smothering low-end of deceased '60s soul-funk legend James Brown (presumably pre-recorded before his death on Christmas Day, 2006), the London-based fivesome set about gambolling and arm-wrestling through the loose confines of sludge-punk. Adding in the big, gay, pink, fluffy, buzzsaw riff-farting of Rich Jones and the "we're not gay, we're just men who love each other" double-headed doom-claw-roar of (generally topless) frontlads Donny Hopkins and Paul Newell and you got yourselves some lunatic-asylum-grindcore stuffed in there too.
This album is so dirty that it's like licking four-day old milk off a wasted hooker's limp body after a week-long hotel-room cocaine binge. Without the glamour aspect. When the chasms of frantic gore temporarily retreat, some of the riffage is monstrous to behold – check out the behemoth closer riff on 'Hispanic Panic' dwarfing it's tinny, but catchy as fuck, opener. The juxtaposition of styles here is at times scarier than finding Harold Shipman sipping a brew in your Nan's living room. The post-blitzkrieg ditty at the end of 'Deathwing' is like that of a music slot-machine from a 1930s Russian fairground, whilst Rich widdles a pork-sword in Jimi Hendrix's direction early on in 'Airborne Sumo', before Donny and Paul slap it round your face with several short, sharp blasts on the "FUCK YOUR MUM!!" wolf-whistle.
'Sutcliffe Potential' slows the pace to doom-mode; about as fast as fox-hunting, but with a snail instead of both the foxes and the hounds. I have no idea what those two are badgering on about by now (do they?!) but I'm willing to bet it could comprise the script of a pretty decent episode of The Inbetweeners, if you replaced the characters of Will, Jay, Neil and Si with Randy Blythe, Attila Csihar, Barney Greenway and George 'Corpsegrinder' Fisher. Mature... like your face.
An honourable mention should go out to the artwork too. Luke Drozd has done the boys proud with a stunning pink and white take on My Little Pony Porno. With love hearts... Ahhhhhhhhhh!! Also featured are a hairy caterpillar (who also looks like Gandalf the Gay's staff, if you know what I mean, wink, wink, nudge, nudge, say no more, say no more...) throwing up into a bowl of fish carcases, and a photo of a dog in a hot-dog costume. Cute, wrong, tasty and an amazing ad-concept for Coleman's mustard.
So there you have it. Take it or leave it. And unless you like loud Iron Monkey-esque mess and songs about wanking, for the love of GOD leave it.