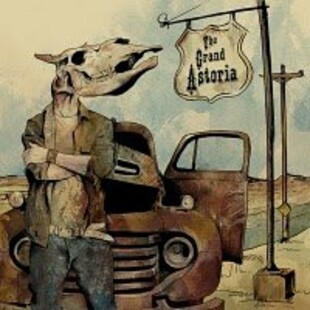 Now, my geography ain't great, but I'm pretty sure that Russia is about as far removed from the desert as a snail is removed from a chesse-grater. Yet this hasn't stopped Russian quartet The Grand Astoria from creating a very fresh, changeable and original first record, which still manages to stay respectful and true to the sounds of its influences.
Instrumental opener 'The Art of Communication with Aliens' does sound eerily like something from an X-Files episode, before an epic soundscape of hulking riffage leads us seamlessly into 'Evolution of the Planet Groove'. It's within this track and the punchy 'All The Same' that TGA reveal their major appreciation of Nebula's grungey, yet majestic, simple rock n' roll structures. The vocals, which although aren't all that consistent throughout the record, here contain huge slabs of Eddie Glass' signature spaced-out whine, whilst we are treated to some hugely impressive, yet not OTT, guitar-soloing. There even appears to be evidence of some scratching here and there, but yet this is some of the most tasteful scratching within a record that I've heard in a long time.
'The Man. The Sun. The Desert' and 'Salvation Is Near' both display rather more progressive tendencies and both top the ten-minute marker. The former track flows through Colour Haze-esque dreamy slow-jamming before taking a turn for the funkier side of the band towards its conclusion; whilst the later brings through a much more Southern-rock groove before slowing back into psychedelic territories.
Closer 'Bell Jar (The World is Not OK)' reaches right back to 60s psych-prog with a Hammond-organ-esque outro. Again stripped of the sticky-as-tar vocals, these guys seem to have found a good knack for writing instrumentals that echo the sentiments of their titles to great effect.
Overall, an excellent first effort, and one where tiny imperfections seem to add to its charm throughout. Plus, it's available as a FREE DOWNLOAD from their myspace, so there really is no reason not to enjoy it!