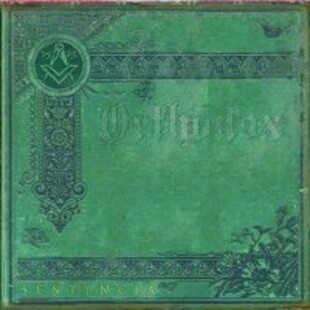 Orthodox, a band swaithed in the depths of gloom and doom for years now, return with their new album 'Sentencia' on the fantastic Alone Records. Translated as simply 'History', 'Sentencia' throws you a massive curveball to begin with, a touch of traditional Spanish music to begin, setting the scene for the melancholic and bleak music that enters via the massive track 'Ascension' which clocks in at a massive 26 minutes.
Now Orthodox are known for their slow, doom-laden riffs and their penchant for monk-like chants and historical referencing, not even their most ardent fans will be expecting what occurs for the majority of this release, lonely plonked piano and plucked strings play a sorrowful score, while vocals wander in with the aid of a warbling effect chanting and telling a story in their native tongue. Hints of brass step in and out like ghosts and even drums are fleeting here.
Not only is it unsettling, but the piano is beautiful and haunting, the starkness and overall emptiness of the entire track is powerful in its brevity and atmosphere. Sometimes descending into chaos, only to bring it back to the quietness introduces an element of surprise into the mix, but for the most part, this is a truly unique and totally captivating release.
Closing track 'Udmund Burke' is a percussion and drum-led procession which calls to mind Godspeed You! Black Emperor, and is also the only track which has even a hint of guitar present, some string-scraping towards the end is all you get of the usual Orthodox pattern.
A real cut into something new, Orthodox obviously have ideas coming out of their ears, I really cannot wait to see what they produce next.