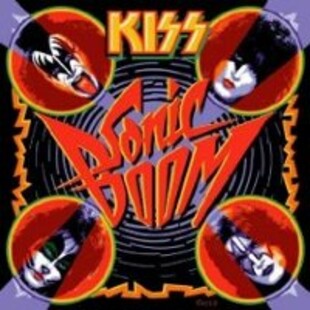 "Don't' diss Kiss, that's what they say, don't diss kiss, get out of my way." So go the lyrics of the infamous rock and roll song I've yet to write. So here they come again, the might Kiss, BEHOLD KISS. Sonic Boom or Sonic Shit? Well, it's tasty, empowering, fun and blistering.
"RUSSIAN ROULETTE" embraces the format of solid groove and maximises the nonsensical sing-along with a blinding "ahhhhhhhhahhhhhhhhAH" or it might be something else entirely. Wham! Let's talk about "NEVER ENOUGH"! Kiss shout "Give me rules, just for breaking" and guess what? I want to break those rules, where are they? I'm here with rule breaking hammer ready to break out! It's a classic KISS that's full of strut and balls. The track "STAND" is not about the actual physical action of standing but more about being there for someone, this track is pretty weak. I expect it's because it's not full of strut and balls. Cowbell introduces "HOT AND COLD"; it's about seducing a chick, pretty cool right? "ALL FOR THE GLORY" had me wishing the DVD of flash dance was playing right in front of demon eyes. It stinks of the 80's, Stinks of glory. My mind believes that the next track was written about me, it's called "I'M AN ANIMAL" and it's pure power. It actually has a very 1972 riff going down, let's call that 'Heavy Blues' or even (whisper) stoner rock. It's so good, so, so good. "WHEN LIGHTING STRIKES" builds and builds and builds and builds then finally lets you down at the chorus. Could have done with an incoherent 'wwwwwwaaaaaaaarrrrrrrrrggggggghhhhhh' or something. This next track "SAY YEAH" smells a bit like what Bon Jovi would smell like now if they used a cowbell (Which they might) and kept that cool hair and long leather jackets.
Minus a couple of lame quibbles this albums wins and I'm glad it wins. The reason? Well every morning for the past couple of months ALICE COOPER on his radio breakfast show has been taking cheap shots at the Mighty KISS. Why? Because he's insane, because he's jealous, because he sucks (apart from his amazing track BED OF NAILS).