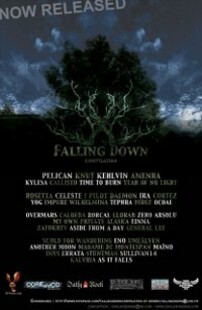 A gargantuan three-disc compilation of post-metal bands from all around the world? Fantastic, let's crack on and find some goodies within...
Quite who has put this collection of music together is unclear, even via the myspace address provided, what is clear though, is the cream of a very-overloaded genre are present and correct throughout.
Kicking off with the incredible KYLESA and their Pink Floyd cover "Set The Controls" and including the likes of AMENRA, YEAR OF NO LIGHT, CELESTE and ASIDE FROM A DAY, it is hard to pick out highlights as the quality is very high.
From the raging chords and insane vocals of KEHLVIN, to the ever-confusing and brilliant KNUT, you can't really go much far wrong.
Lots of the bands sound like Cult of Luna, that is obvious, but it is the twists and turns contained within that bring this compilation into its own. The likes of grunge-like material from IMPURE WILHEMINA and the Unsane-like TIME TO BURN impress, and it's hidden and unknown gems like these that make compilations like this worthwhile, even in an age of downloads and instant gratification, bringing together like-minded bands still holds some relevance. A particular surprise is breakneck-speed grind band YOG who bring a brain-melting 40 seconds to the table in the form of "Breaking The Spell", it's not all ten-minutes of post rock and screams.
Some French screamo in the form of SCOLD FOR WANDERING brings even more in the form of diversity to the party, coming across like a european version of Funeral Diner. I PLOT DAEMON even come in with a live offering that stinks of sweaty bars, their bouncy stoner rock is a welcome bit of fun in an otherwise intense section of the album.
The final CD holds even more treats, ANOTHER MOON play some almost black metal-like instrumental rumblings before the metallic twisted hardcore of STUNTMAN takes hold.
There is a stinker here though, the snotty almost-punk of SULLIVAN 14 could be any pub band in the UK on any night of the week, oops.
The whole shebang ends with some gorgeous electronic ambience from KALVRIA and the whole collection is worth seeking out via the myspace account at ww.myspace.com/fallingdowncompilation
Look out for the second collection out very soon too, featuring TAINT, WHITE HILLS and GREY DATURAS.