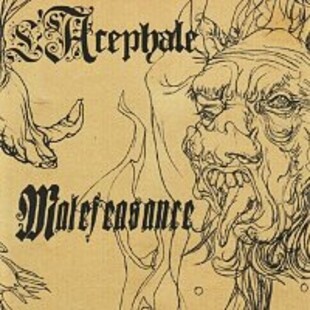 Mysterious doesn't even begin to describe this release. Toted by label Aurora Borealis as drenched in folk and black metal, what we have here is the extended ephemera of a solo project by a Portland musician Set Sothis Nox La.
What this album represents is anyone's idea, lashings of acoustic guitar clatter for space with military-style drumming that can be compared to Mayhem's "Grand Declaration Of War" in its scope, but frankly, the whole album is so claustrophobic and unnerving in its insistence on battering the listener with a cacophony of noises, any comparisons buckle right here.
A low choral vocal here, a never-ending snare roll there, black metal screeches one moment, electronic sheets of earache the next, it is truly confusing and from the sounds of it, layered in murky atmosphere to insist upon itself as a piece of art.
A twisted take on the (un)holy spirit of Darkthrone comes in halfway through in the form of "A Burned Village" but the guitar work is so comically skewed with effects it becomes just another noise in this circus of filth.
"From A Miserable Abode" steps up the intensity and has an almost impenetrable exterior that I'm afraid to break through, incredibly caustic and harsh, only when it gives way to an infuriating eastern pipe noise does it let up, but only for a moment.
A barely-recognisable cover of Current 93's "Sleep Has His House" rages by with what seems to be barely-manipulated guitar feedback that roars and chides it's way through nearly quarter of an hour that I would like back please.
As for closer "Nothing Is True, Everything IS Permitted", permit me to warn you off this song, and this album, truly harrowing stuff, I can imagine no worse album to relax to or indeed listen to for pleasure. But then I'm sure some of you will be curious enough to investigate...